Miss Bala (Mexico/United States, 2019)
February 02, 2019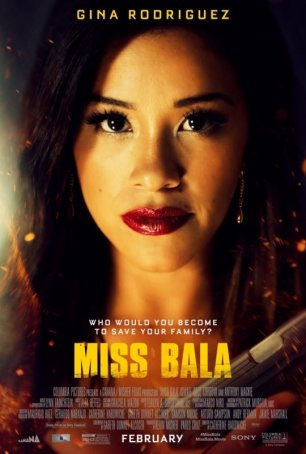 Miss Bala is a reworking of a 2011 Mexican film. Although the movies may share the same name, they have different agendas. The original Miss Bala focused more on the dramatic elements than the action/thriller ones and wasn't afraid to get dark and gritty. The 2019 re-interpretation is a less harsh brew with many of the least palatable elements either scrubbed out or softened for adolescent consumption. The PG-13 rating is an indication of how much the material has been neutered. And, although the lead character's arc remains troubled and conflicted, the ending makes her seem more like a superhero than the material warrants.
The basic framework will be familiar to American audiences. It's the template often employed by movies about inner city gang wars and organized crime dust-ups. Here, the setting has been shifted south of the border to Tijuana where drug-fueled violence fostered by the cartels is a way of life. The only thing harder to identify than the bad guys are the good ones. The main players in Miss Bala's struggle are a criminal syndicate run by the darkly brooding, charismatic Lino (Ismael Cruz Cordova), and a corrupt police department presided over by Chief Saucedo (Damian Alcazar). The DEA and CIA also have bit parts to play (cue Anthony Mackie as "Jimmy") although there are times when their involvement seems more plot-driven than natural.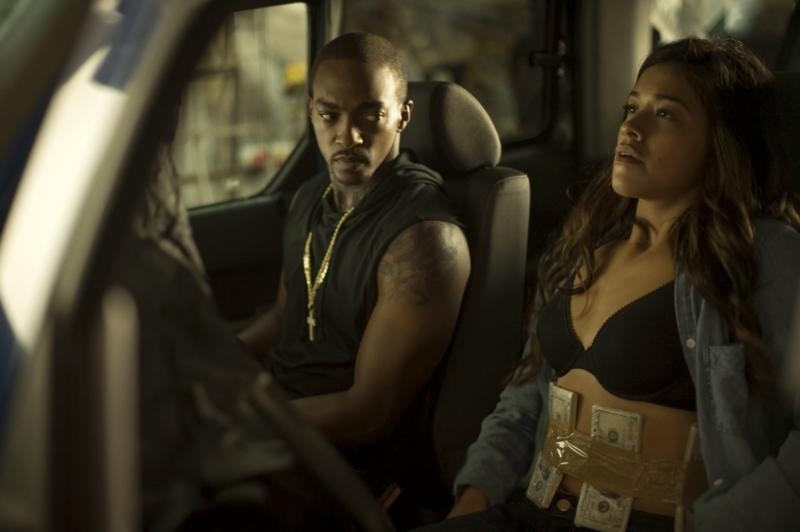 Into this hotbed of dirty money, bloody vendettas, and sex trafficking comes Mexican-American Gloria (Gina Rodriguez), who is in Mexico to help her best friend, Suzu (Cristian Rodlo), participate in a beauty pageant. Following a shooting at a nightclub in which Gloria briefly comes face-to-face with Lino, Suzu goes missing. Overly aggressive in looking for her friend, Gloria puts herself in danger and soon finds herself abducted by Lino's gang. She is forced to do a "favor" for them (driving and parking a car that's loaded with explosives) but, after escaping, she falls into the DEA's hands. They strongarm her into becoming their mole and send her back to Lino.
Although director Catherine Hardwicke (Twilight) doesn't depict much of the brutality – at least not in great detail – she makes it apparent what's going on, and none of it is pretty. Gloria gets whiplash trying to determine who might be a reliable ally – if anyone. In the end, she decides that the only one she can trust is herself, with perhaps a little help from "Miss Bala" ("Bala" meaning "Bullet"). The film's climax feels too much like a cheat to be credible in that it elevates Gloria to a level of superhuman heroics. Sure, she looks great walking in slow-motion, wearing an evening gown and touting an AK-15, but that's a comic book image not one from a movie that wants to maintain a dramatic edge.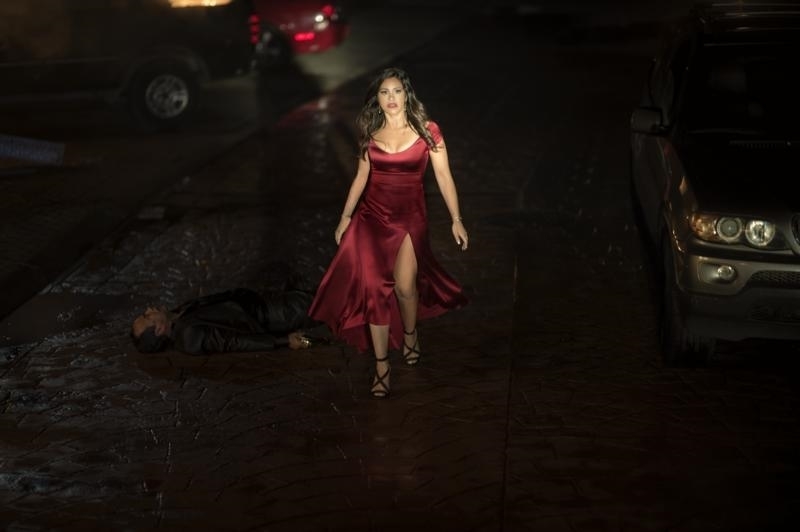 Miss Bala offers lead actress Gina Rodriguez a showcase for her talent and she doesn't waste the opportunity. She navigates the narrative's changing, churning waters, presenting a character who is fierce and strong but with moments of vulnerability and self-doubt. We never doubt the veracity or honesty of the performance. Gloria has identity issues as well – she feels neither completely American nor Mexican. That mentality creates a bond between her and the equally "country-less" Lino. The dynamic between them is the film's most fascinating aspect because they have more in common than either would like to admit. Lino justifies his acts of murder and violence as being necessitated by circumstances. Although Gloria might want to refute that, her own act of self-preservation has dire consequences; she essentially condemns another to die in her place.
Movies like Miss Bala frustrate me because they seem so close to providing a complex, compelling story but never quite get there. The moral quagmire created by the near-border cartel violence opens up narrative possibilities that the screenplay tastes but, perhaps because the PG-13 dissuades adult themes and conflicts, it skirts away from ideas that it teases. Ultimately, Miss Bala is about female empowerment - a worthy subject for a film if the movie had been willing to embrace the truth and consequences of Gloria's actions rather than succumbing to the crowd-pleasing tendencies that shape the climax.
---
Miss Bala (Mexico/United States, 2019)
---

Three...better movies of this genre
worse movies of this genre
Three...better movies of Gina Rodriguez
worse movies of Gina Rodriguez
(There are no more worst movies of Gina Rodriguez)
Three...better movies of Ismael Cruz Cordova
(There are no more better movies of Ismael Cruz Cordova)
worse movies of Ismael Cruz Cordova
(There are no more worst movies of Ismael Cruz Cordova)
Three...better movies of Cristina Rodlo
(There are no more better movies of Cristina Rodlo)
worse movies of Cristina Rodlo
(There are no more worst movies of Cristina Rodlo)