Mrs. Harris Goes to Paris (United Kingdom/France, 2022)
July 12, 2022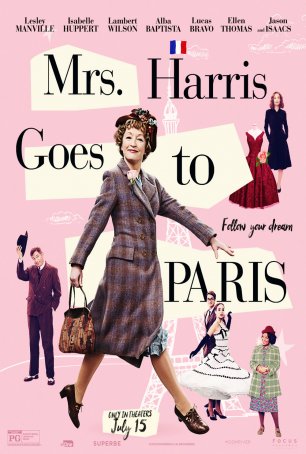 Mrs. Harris Goes to Paris matches the tone and aesthetic of one of those feel-good, highbrow art house films that were popular during the 1990s and 2000s. (It's not quite on the same level as Enchanted April but is better than The Best Exotic Marigold Hotel, both of which are apt comparisons.) It's entirely inoffensive (not to mention a little boring) in its pursuit of a moment or two's frothy confection. The film embraces the value of pursuing one's dreams while extolling the virtues of haute couture. My guess is that it will appeal strongly to the Downton Abbey faithful.
The title is an example of truth in advertising; the narrative does indeed focus on the trip of a war widow named Mrs. Ada Harris (Lesley Manville) who travels to the City of Lights after scrimping and saving enough (500 pounds) to afford her dream: a Christian Dior gown. In London, her aspirations are encouraged by her best friend, Vi (Ellen Thomas), and her would-be beau, Archie (Jason Isaacs). In Paris, she is aided and abetted by Dior accountant Andre Fauvel (Lucas Bravo), model Natasha (Alba Baptista), and the charismatic Marquis de Chassagne (Lambert Wilson). Standing in opposition is Dior's manager, Claudine Colbert (Isabelle Huppert), an intimidating woman whose smile never goes deeper than her lips.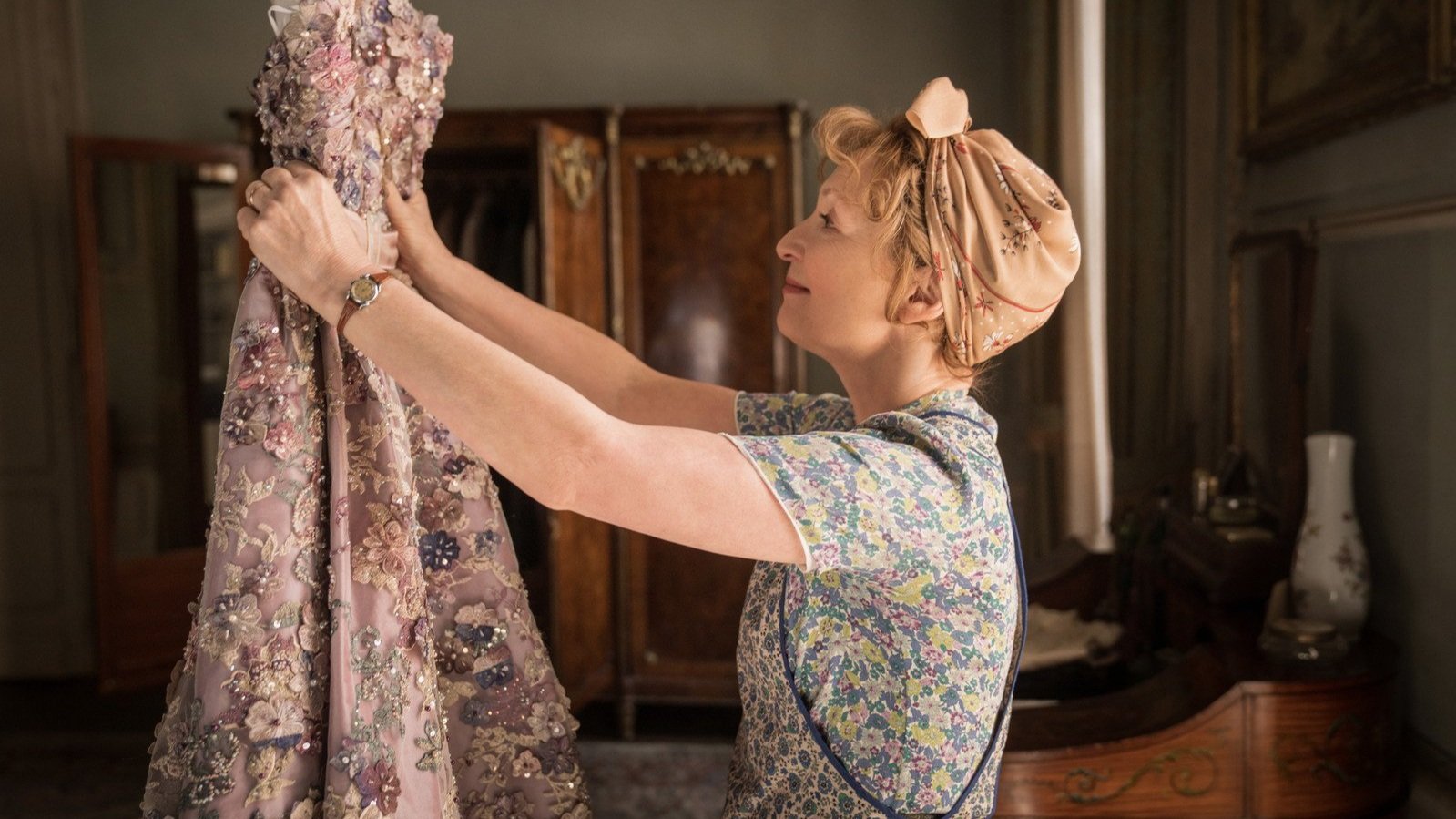 The film shows much the same reverence for the world of fashion as Paul Thomas Anderson's slightly stuffier Phantom Thread. (Unlike the 2017 movie, this one doesn't come burdened by Oscar pretentions.) It's also a Valentine to Paris in the 1950s and the World of Fashion as it once was, when branding meant something more than a mere status symbol and before the industry devolved into the morass depicted in The Devil Wears Prada. (Christian Dior was still alive at the time of Mrs. Harris Goes to Paris, and makes a few brief appearances, played by actor Philippe Bertin.)
Mrs. Harris' character arc is sturdy but unspectacular, and more than a little bit of a cliché. Her husband, an RAF pilot, went missing a dozen years ago during the height of World War II. Early in the movie, she receives closure, albeit not of the sort she might have wished: his remains have been found and identified and he is now officially designated as KIA in a 1944 mission. Freed of his ghost, Mrs. Harris can concentrate on the business of living and begins the process of chasing an improbable dream. Along the way, she helps others find love and discover the courage to speak out. She wins over adversaries and sheds the aura of meekness that has shadowed her.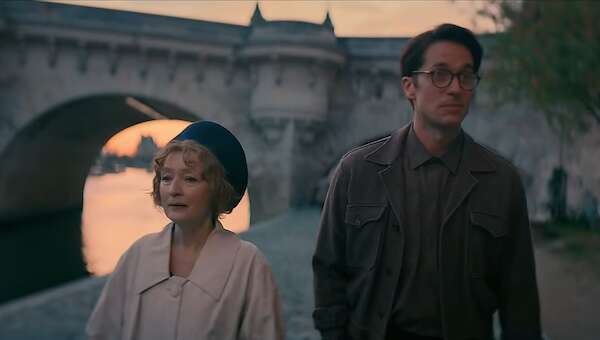 British character actress Lesley Manville, who has appeared in a bazillion TV series and more than a few feature films, will immediately be recognizable to anyone with any experience of U.K. exports. She has a startlingly large resume dating back to the 1970s when she debuted in the soap opera Emmerdale Farm. Manville quietly and efficiently inhabits a role that could easily have been played by Helen Mirren, Meryl Streep, or Judy Dench (had the filmmakers desired a higher profile name). The rest of the cast is eclectic, with "name" actors like Jason Isaacs (playing against type as an affable fellow and potential love interest), Isabelle Huppert (showing a bitchy side), Anna Chancellor (even bitchier), and Lambert Wilson.
One can safely assume that director Anthony Fabian is an anglophile. The California-born filmmaker has lived all over and, although he went to school at UCLA, he has since relocated to London. Primarily a documentarian, this is his third feature. He understands the genre and adapts the source novel with a deft hand that will likely delight the limited target audience. Those outside that demographic may find Mrs. Harris Goes to Paris to be too staid and predictable – not entirely unwelcome but perhaps not worth the price of a theatrical admission.
---
Mrs. Harris Goes to Paris (United Kingdom/France, 2022)
Run Time: 1:32
U.S. Home Release Date: 2022-09-06
MPAA Rating:
"PG"
Genre:
Drama/Comedy
Subtitles: none
Theatrical Aspect Ratio: 2.35:1
---

Three...better movies of this genre
worse movies of this genre
Three...better movies of Lesley Manville
(There are no more better movies of Lesley Manville)
worse movies of Lesley Manville
(There are no more worst movies of Lesley Manville)
Three...better movies of Jason Isaacs
worse movies of Jason Isaacs
Three...better movies of Anna Chancellor
(There are no more better movies of Anna Chancellor)
worse movies of Anna Chancellor
(There are no more worst movies of Anna Chancellor)