Movies starring Lambert Wilson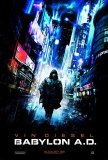 Babylon A.D.
Babylon A.D. has the look and feel of a skeleton: an unfinished outline that whooshes by so fast that it becomes incomprehensible as its storyline and characters are lost in a flurry of fast cuts and poorly choreographed action sequences. The film... Catwoman
Without pussyfooting around, I can state that Catwoman is a catastrophe. An amalgamation of bad clichés purr-loined from other, better superhero movies (not that there are many - if any - that can be considered worse), this motion picture is an e... Flawless
Flawless is the fourth heist movie to reach U.S. screens in the past twelve months, surfacing in the wake of Oceans 13, Mad Money, and The Bank Job. While Flawless follows the rules of the genre, it does so in a kindler, gentler manner. This movi... Jefferson in Paris
The Bostonians. A Room With A View. Mr. and Mrs. Bridge. Howards End. The Remains of the Day. These represent the best of Merchant-Ivory -- a category in which their latest, Jefferson in Paris, does not belong. Nevertheless, although this exa... Matrix Reloaded, The
Non-demanding fans of the original The Matrix will likely be enthralled by the second installment in the series. More demanding aficionados will likely have a few reservations, some of which will not be addressed until the release of the third fea... Matrix Revolutions, The
The Matrix Revolutions represents a disappointing way for the science fiction trilogy to bow out. Overlong and underwhelming, The Matrix Revolutions reinforces the thinking that it's a rare movie series in which the final chapter is the stronges... Sahara
Sahara takes the action/adventure story to new heights of preposterousness. In a way, that's not a bad thing, since it allows a certain level of guilty enjoyment. You're never expected to take anything in the movie seriously, because the characte...