Wilde Wedding, The (United States, 2017)
September 14, 2017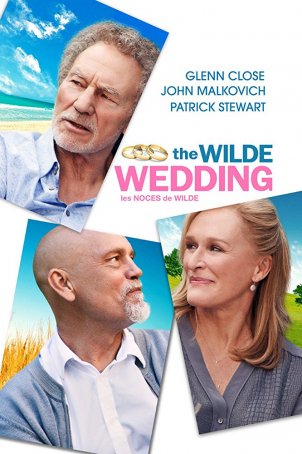 Damian Harris' The Wilde Wedding is a delightfully loopy comedy about the hijinks that occur when families collide and intermingle at the fourth wedding of international film star Eve Wilde (Glenn Close). Weddings are, of course, beloved by filmmakers because of the potential story possibilities. Sex, drinking, drugs, dancing – all are part and parcel of the package and Harris (whose sparse but varied directorial resume stretches back to the late 1980s) uses every one of those things to good comedic effect. He never overreaches with the humor and never gets too gross. There are some laugh-out-loud moments, to be sure, but the film mostly works because of its effervescent tone. Bad things happen but the movie never veers into tragicomic territory. Despite the ensemble cast and surfeit of dialogue, this isn't an attempt at an Americanized French movie. (The French, of course, love to make movies about family gatherings and most of them end up being hopelessly depressing.)
Although there are about 20 significant characters with speaking roles – and it can require a scorecard to keep them straight, especially in the beginning – The Wilde Wedding is all about Glenn Close and John Malkovich (as Eve's first ex, Laurence Darling). Their rapport, softer but no less magnetic than the one they shared 29 years ago in Dangerous Liaisons, is the glue that holds the film together. There's no shortage of scenes for the supporting performers. Those include Patrick Stewart (with hair!) as Harold Alcott, a serious novelist who is about to become Eve's latest spouse; Noah Emmerich, Peter Facinelli, and Jack Davenport as Eve and Laurence's three sons, Jimmy, Ethan, and Rory; Minnie Driver as Rory's ex, pop star diva Priscilla Jones; and Grace Van Patten as Mackenzie, one of the grandchildren and the story's narrator.

The events of The Wilde Wedding transpire over a two-day period leading up to a ceremony that doesn't go quite as expected. Harris keeps the tone light. Secrets are revealed and illicit encounters happen but the viewer needn't worry about things getting dark or deep. This is pure frivolity. The actors all appear to be enjoying themselves immensely and the vibe crosses to the audience. I've seen dozens of movies about weddings and this is among the most enjoyable two or three; its unpretentiousness is infectious.
Eve is a fascinating character – an "accidental" star of the 1970s who is enjoying her retirement. Although attempting to add Harold to her collection of husbands, she has never broken the link with Laurence, who hovers around to offer equal parts advice and self-deprecating wit. Few actors are better at playing "creepy" than Malkovich but he reins in the impulse to make Laurence seem predatory. Instead, he's just a likeable guy who's a little lonely and clearly still in love with his ex-wife. No one, least of all Harold, is oblivious to the still-simmering attraction between the former spouses but everyone accepts it as the natural order of things. These two apparently work better as a couple post-divorce than they did prior to the legal severing of their union.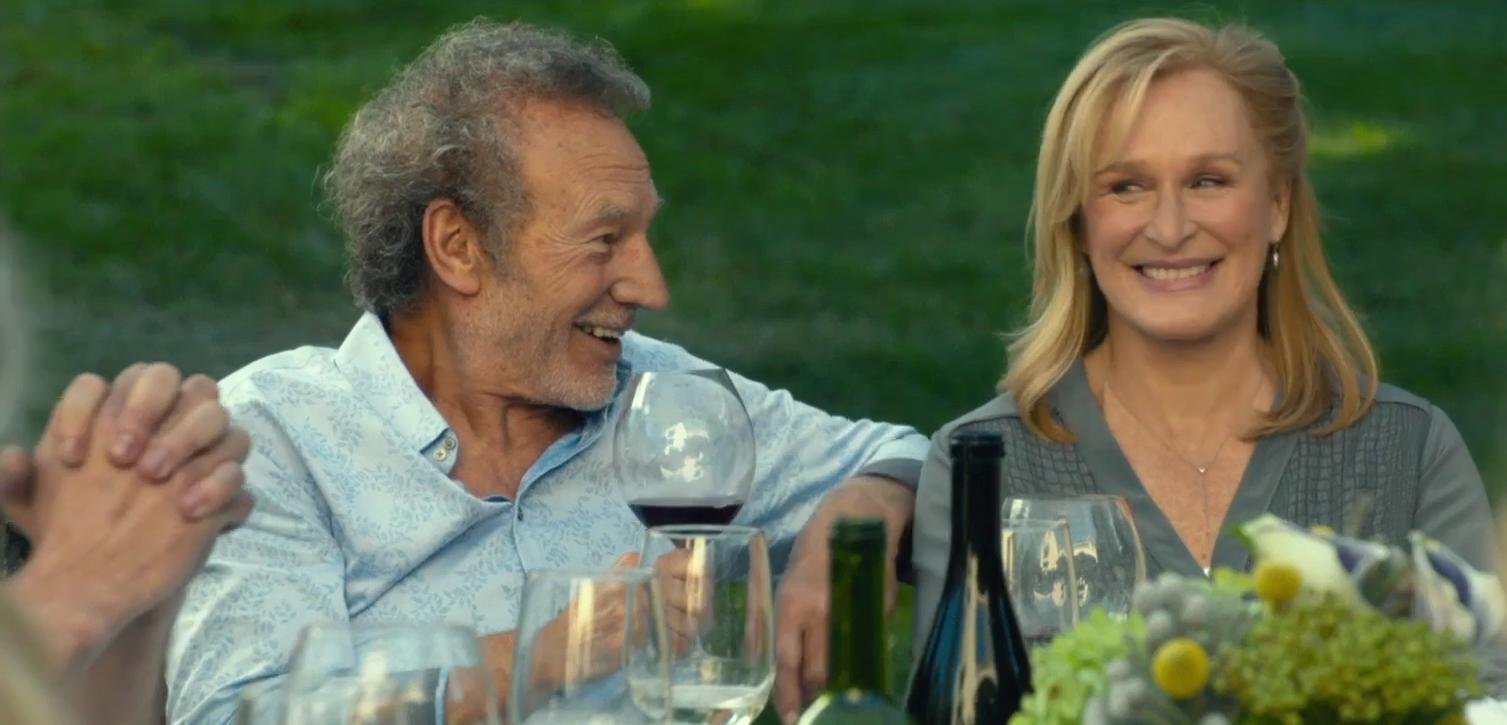 Patrick Stewart has an opportunity to sound erudite while making a complete ass of himself. It's an unconventional role for the revered actor (who has also recently played "Poop" in The Emoji Movie) and one he apparently enjoyed. Stewart's appearance is perhaps the oddest thing about him. For a man whose most notable physical feature is his bald head, wearing fake frizzy hair (to go along with a sparse beard and mustache) makes him look like a different person. (This might have been done to eliminate the oddity of both leading men having shaved domes – Malkovich also has no hair above the lip.)
The Wilde Wedding contains its share of wonderfully droll sequences, including one in which a car full of girls grill Harold about the films of his soon-to-be-wife, none of which he has apparently seen. Then there's what happens the night before the wedding when one of the guests leaves a box of mushroom-infused chocolates where anyone can sample them. Mackenzie's narration, which includes insider information and cutting quips, is amusing without seeming intrusive.
The film's vibe reminds me of some of the parfaits of early 1990s art-house cinema. There's always a place for good acting, clever dialogue, and a sense of humor, even if the narrative teeters somewhere between incidental and irrelevant. If Harris' goal was to put a smile on the lips of viewers, he succeeds.
---
Wilde Wedding, The (United States, 2017)
---

Three...better movies of this genre
worse movies of this genre
Three...better movies of Glenn Close
worse movies of Glenn Close
Three...better movies of John Malkovich
worse movies of John Malkovich
Three...better movies of Patrick Stewart
worse movies of Patrick Stewart