You Can't Take it with You (United States, 1938)
May 06, 2010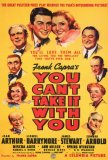 The term "Capra-corn" was coined for movies such as this one: feel-good endeavors that emphasize the better portions of human nature over the base, venal ones. With Capra, no matter how dark things got in the middle (and it's tough to get darker than the alternate reality of It's a Wonderful Life), there was always light at the end of the tunnel. Capra was at his most popular during the 1930s - the period when the Great Depression was scarring the national conscience and before the clouds of war spread from Europe and Asia to North America. In a seven year period between 1934 and 1940, Capra was nominated for an astounding five Best Director Oscar nominations, marking a record that will probably never be equaled or beaten. You Can't Take it with You represented his fourth nomination and third (and final) win in the director category. It was also his second project to capture the Best Picture statuette (following the immensely popular It Happened One Night).
You Can't Take it with You was a tonic to a Depression-weary country beginning to right itself economically. The social situation is not unlike that of today; although the Recession of 2008-09 wasn't as deep or punishing as the Great Depression, many of its impacts will leave lasting wounds. (It's scant comfort to someone who lost his job and can't pay the mortgage to be told that things aren't as bad as they were in the 1930s.) The film's triple-prong of optimism - the triumph of goodwill over avarice, love conquers all, and the importance of family over possessions - makes it a sunnier offering than even It's a Wonderful Life, which has often been branded as Capra's most upbeat motion picture. In fact, in many ways, You Can't Take it with You feels almost like a trial run for the deeper more affecting 1946 feature, and the presence of Lionel Barrymore and James Stewart in both strengthens the connection. (Jean Arthur, who was Capra's first choice to play Mary in It's a Wonderful Life, would have provided another point of commonality, but she was unavailable when It's a Wonderful Life went into production, so the role went to Donna Reed.)
The film opens high above New York City in the boardrooms of Kirby and Co., a massive banking corporation that has apparently flourished during the Depression and is now buying up land as part of a convoluted plot to corner the munitions market. Anthony P. Kirby (Edward Arnold) is irate because there's one hold-out in the neighborhood - someone who won't sell even when offered four times what his house is worth. The man, named Martin Vanderhof (Lionel Barrymore), has a simple explanation for his reticence: he values the memories and importance of the property to his family more than the money. Kirby, who isn't used to having his plans thwarted, orders his real estate agent to use any and all means to force Vanderhof out - or risk losing his commission.
Meanwhile, Kirby's son and the Vice President of the company, Tony (James Stewart), has embarked upon a romance with his secretary, Alice (Jean Arthur). Unbeknownst to him, she is Vanderhof's granddaughter and lives in the house that Tony's father so desperately wants. Once Tony convinces Alice to marry him, they decide how best to engineer the meeting between their very two different families: the blue-blooded Kirbys and the bohemian Vanderhofs. Alice plans an elaborate dinner and encourages her relatives to be on their best behavior, but Tony spoils everything by bringing his parents by on the wrong night, thereby exposing his future in-laws at their eccentric worst. The engagement literally goes down in flames.
Despite certain dramatic elements, You Can't Take it with You is a classic screwball comedy, although Capra's approach to the genre is more restrained than that of his contemporaries. While many of the jokes, which range from dialogue double-entendres to less sophisticated physical comedy, probably delighted audiences in the 1930s, they are somewhat less laugh-inducing today. You Can't Take it with You is amusing but rarely uproarious, with much of the humor seeming dated. The movie's central romance is also flat, with little chemistry evident between Jean Arthur and James Stewart. It's not that Capra couldn't direct romances (he did a fine job with the formula-establishing It Happened One Night) or that Stewart couldn't act in them, but that the pairing of Arthur and Stewart as lovers didn't work.
Because of his status as an up-and-comer rather than an established star, Stewart did not get top billing. In 1938, Stewart was known for his good looks, ready smile, and "aw shucks" demeanor but his career, while past its infancy, was still undergoing growing pains. He would work twice more for Capra after You Can't Take it with You (and might have done more than that had it not been for World War II), the second collaboration of which (Mr. Smith Goes to Washington) would earn him his first Oscar nomination. As Tony, Stewart is as likeable as he would ever be - full of good intentions and without a bad bone in his body. The part suits Stewart who, throughout his career, was more readily accepted as a hero than as a character possessing shades of gray.
Jean Arthur, who was Capra's favorite leading lady, was the Queen of the Screwball Comedies during the 1930s, and a big box office draw. Her age difference with Stewart (she was seven years his senior) didn't deter anyone from expecting their pairing to work, and Capra was happy enough with it that he re-united them in Mr. Smith Goes to Washington. Arthur made You Can't Take it with You toward the end of a long and productive career. She retired in the mid-'40s, making only one film appearance after that (for George Stevens in Shane), although she had a short-lived TV series in 1966. The excellence of her comedic timing and the energy she exudes throughout You Can't Take it with You are evidence of the reasons for her popularity.
There's more than a little irony surrounding Lionel Barrymore's contribution to You Can't Take it with You. Here, his Martin Vanderhof is the ultimate anti-materialist, valuing love, family, and companionship over anything to do with money. He's good-natured and rarely loses his temper (the one exception is when he delivers a lecture to Kirby while they're both in jail). He's basically a kind old man - the sort of grandpa we all wish we could have. Barrymore's most famous role for Capra would come a few years later in It's a Wonderful Life. Mr. Potter is the direct antithesis of Vanderhof - a mean, avaricious, petty miser who lives to make everyone as miserable as he is. It's a testimony to Barrymore's range that he is equally effective in both roles, although there's little doubting that Mr. Potter leaves a stronger impression.
The rest of the cast is comprised of recognizable character actors, many of whom worked frequently with Capra over the years. The only acting nomination to arise from You Can't Take it with You went to Spring Byington as Alice's loopy mother, who spends most of the movie sitting behind a typewriter. Byington was a familiar face in movies during the 1930s and 1940s and transferred that popularity to television beginning in the 1950s. This was her only Oscar nomination, and she did not win. Another notable performer in You Can't Take it with You is Edward Arnold. A leading man during the silent era and in the early talkies, he adapted to supporting roles in order to prolong his career.
Frequent Capra collaborator Robert Riskin wrote the screenplay, reworking it from the Pulitzer Prize-winning play by George S. Kaufman and Moss Hart. After watching the play, Riskin was struck by how closely the material matched Capra's world-view and, as a result, he made few fundamental changes to the story or structure, although certain characters were modified to better suit the actors playing them. Ironically, one of the few Capra-directed films not written by Riskin was It's a Wonderful Life - the title on the director's resume that most closely resembles You Can't Take it with You.
When it comes to weathering the years, You Can't Take it with You hasn't fared as well as the director's better, more timeless offerings. Part of the problem is the nature of the humor - few screwball comedies look as good today as they did during their heyday. There's also an innocence permeating the movie that doesn't play as well during an era when audiences value darkness in even the lightest of comedies. Still, You Can't Take it with You provides a pleasant enough two hours along with a reminder of how era-specific the criteria for winning an Oscar are.
---
You Can't Take it with You (United States, 1938)
Run Time: 2:06
U.S. Release Date: -
MPAA Rating:
"NR"
Genre:
COMEDY/DRAMA
Subtitles: none
Theatrical Aspect Ratio: 1.33:1
---
Three...better movies of this genre
worse movies of this genre
Three...better movies of Jean Arthur
(There are no more better movies of Jean Arthur)
worse movies of Jean Arthur
(There are no more worst movies of Jean Arthur)
Three...better movies of Lionel Barrymore
(There are no more better movies of Lionel Barrymore)
worse movies of Lionel Barrymore
(There are no more worst movies of Lionel Barrymore)
Three...better movies of James Stewart
worse movies of James Stewart
(There are no more worst movies of James Stewart)