Movies starring Alexandra Maria Lara Control
In essence, Control is a standard order biopic of a tormented artist. What makes the film interesting, if not unique, is the style in which director Anton Corbijn has elected to present it. Rather than approaching the picture with the vivid psych... Downfall
Downfall is the third major filmed account of Hitler's final ten days, following in the distant wake of 1973's Hitler: The Last Ten Days and 1981's The Bunker. A superior production to both of the earlier movies, Downfall is a windfall for anyone w...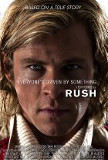 Rush
Ron Howard is probably best known for making slick, well-produced, crowd pleasing motion pictures. From his early days behind the camera, with light fare such as Splash, to his most accomplished feature, Apollo 13, to his Oscar-winning A Beautiful ...