Movies starring Cynthia Stevenson Happiness
Anyone who saw Todd Solondz's breakthrough feature film, Welcome to the Dollhouse, has the kernel of an idea about what to expect from the director's latest effort, the ironically-titled Happiness. Welcome to the Dollhouse is a dark comedy tha...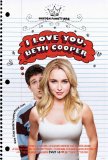 I Love You, Beth Cooper
I Love You, Beth Cooper contains a share of effective elements wrapped around the core that, overall, isn't very good. Although masquerading as a generic teen romantic comedy, the film touches on topics that are atypically introspective for this s... Live Nude Girls
It would be impossible to write a review of this film without discussing the title. How many viewers will see Julianna Lavin's feature debut because it's called Live Nude Girls? And how many will avoid it for the same reason? There's little doub...