Movies starring Gabriel Macht Because I Said So
Because I Said So is a made-to-order romantic comedy of the type "B" variety (that's the one where the heroine is torn between the socially and financially "ideal" guy and the one who really makes her happy). As I have previously written, a formul...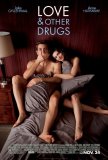 Love and Other Drugs
Edward Zwick is probably best known for his work on television. Along with Marshall Herkovitz, he was a driving force behind two long-running TV series (thirtySomething and Once and Again). He was also an important contributor to many others (inc...
Spirit, The
The Spirit is an example of what can happen to a comic book-inspired movie when the sense of style becomes so pervasive that it overwhelms everything else, including an unremarkable superhero adventure. Unfortunately, the eye candy quickly grows st...