Movies starring Jessica Lucas Cloverfield
Cloverfield is to the monster movie as The Blair Witch Project was to the ghost story. This movie is going to divide audiences. There are those who will be unable to endure nearly 90 minutes of constantly moving hand-held camerawork. Some will e...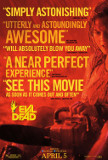 Evil Dead
It's tempting to look at the 2013 reincarnation of Evil Dead as yet another pointless remake of an '80s horror film. Haven't there been enough of these? One glance at the credit list reveals that both director Sam Raimi and star Bruce Campbell (o...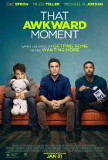 That Awkward Moment
That Awkward Moment exudes an "old school" romantic comedy vibe. (Since it borrows from Shakespeare's Love's Labour's Lost, the "old" really applies here.) The script has an '80s/'90s sensibility wrapped in a layer of lewd, crude, rude packaging. S...