Movies starring Kenny Baker Star Wars (Episode 1): The Phantom Menace
When George Lucas first conceived the idea for Star Wars, it was just a movie. Over the course of 22 years, it has grown into a full-blown phenomenon - an event that gives promoters orgasmic shivers and makes theater employees wish they could take... Star Wars Episode II: Attack of the Clones
Middle episodes in trilogies have the potential to be fundamentally dissatisfying. Thankfully, George Lucas has managed to avoid that pitfall for Episode II of the Star Wars saga, Attack of the Clones. Admittedly, the primary purpose of this film... Star Wars Episode III: Revenge of the Sith
The saga is complete. What George Lucas began in 1977 as a little movie that took the box office by storm, he has completed in 2005 with the most heralded motion picture of the year. With the arrival of Revenge of the Sith, Lucas places the missi...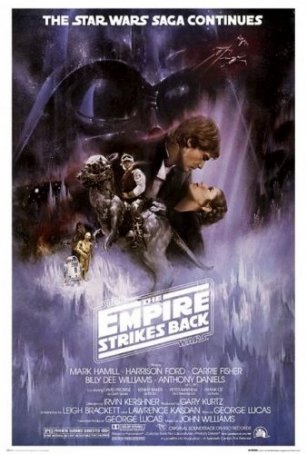 Star Wars Episode V: The Empire Strikes Back
Indulge me for a moment as I time travel back to 1980. Historically, it was a signficant year -- the Iran hostage crisis raged, Ronald Reagan won the Presidential election, and the United States boycotted the Moscow Summer Olympics in response... Star Wars Episode VI: Return of the Jedi
There's an old saying that states something about leaving the best for last. George Lucas certainly didn't follow that adage when crafting the original Star Wars trilogy. Return of the Jedi, the final installment of the series, is easily the ... Time Bandits
Ever wondered what Dorothy's trip along the Yellow Brick Road might have been like if, instead of traveling with the Scarecrow, the Tin Man, and the Cowardly Lion, she had been accompanied by H.G. Welles, Roald Dahl, and Monty Python? Or how C.S. ...