Movies starring Linus Roache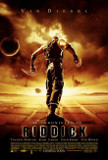 Chronicles of Riddick, The
With a title like The Chronicles of Riddick, one can assume that David Twohy's movie comes with lofty aspirations. Indeed, there are hints of a complex, involving story here. Unfortunately, too many of the nuances are drowned out by incessant, re... Find Me Guilty
Vin Diesel as a Joisey mobster? As improbable as it might sound, Diesel offers a credible turn as Giacomo 'Jackie D' DiNorscio, one of about 20 members of the Lucchese crime family to go on trial for violation of the RICO (Racketeering Influenced ... Priest
The Catholic community's outcry against Priest has already begun, and it will doubtlessly become more intense before it abates. One of the most disturbing elements of any organized protest of this sort is that most of those involved will not have ...