Movies directed by Sidney Lumet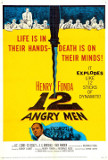 12 Angry Men
There have been two exceptional versions of Reginald Rose's teleplay, 12 Angry Men. The first (and better known) was the 1957 adaptation, which starred such luminaries as Henry Fonda, Jack Warden, E.G. Marshall, Martin Balsam, Jack Klugman, and Lee... Before the Devil Knows You're Dead
An Irish toast goes "May you be in heaven half an hour... before the devil knows you're dead," and it's from this source that the latest movie by 83-year-old veteran director Sidney Lumet derives its name. With films like Serpico,Q&A, and Night Fa... Find Me Guilty
Vin Diesel as a Joisey mobster? As improbable as it might sound, Diesel offers a credible turn as Giacomo 'Jackie D' DiNorscio, one of about 20 members of the Lucchese crime family to go on trial for violation of the RICO (Racketeering Influenced ... Network
In motion pictures, there are essentially three types of satire: a fatuous, silly kind that emphasizes jokes to the exclusion of all else; a lightly comic approach that gently pokes fun at issues while developing a plot and characters; and a vicio... Night Falls on Manhattan
Into the calm before the box-office storm of The Lost World rises Night Falls on Manhattan, Sidney Lumet's triumphant return to worthwhile movie-making. The director of such memorable films as Serpico, Dog Day Afternoon, and Network has been in a ... Q&A
Q & A is testimony to the validity of the old adage: a good story, when well told, can never be told too many times. With this movie, director Sidney Lumet doesn't bring anything radical to the screen. The premise - a decorated cop discovered to ...