Movies starring Rachel Bilson Jumper
One of the cardinal rules when making a motion picture about a superhero, especially one no one has heard of, is not to make the integrity of the story depend on the existence of a sequel. Unfortunately, that's a rule that director Doug Liman brea... Last Kiss, The
I recommend The Last Kiss, but not without a misgiving or two. This movie is essentially a celebration of yuppie angst. It's about people in their late 20s who have issues with commitment and monogamy, who have lost their way and are trying to fin...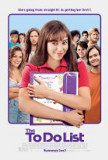 To Do List, The
The To Do List grafts the raunchiness of today's R-rated comedic fare onto the structure of an '80s sex romp. The film feels a little like what might happen if the producers of films like Bridesmaids found a lost John Hughes script and adapted it f...