Movies starring Ron Eldard Freedomland
Freedomland is one of an increasingly endangered species: the adult movie that's about something. By "something," I mean a serious issue - the kind of thing films shy away from for fear of alienating viewers. Underneath the trappings of a police ... House of Sand and Fog
What happens when the so-called American Dream - a life of financial independence and home ownership - turns into the American Nightmare? For some, a house is just a place to stop and rest at night. For others, it's an investment - a means to bui... Sleepers
Robert DeNiro. Dustin Hoffman. Brad Pitt. Jason Patric. Kevin Bacon. Minnie Driver. With a talented cast like this, it's virtually impossible to envision a bad movie, and, in that regard, Sleepers doesn't surprise or disappoint. This is easi...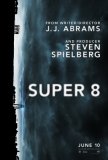 Super 8
Super 8 is an homage by its writer/director, J.J. Abrams, to its producer, Steven Spielberg. It's also a love letter to all those with a passion for filmmaking that emerges at a young age. Super 8 is the kind of high-profile movie we so rarely se...