Movies starring Rutger Hauer Batman Begins
Of all the major comic book characters to transition to a less static visual media, none has been more mistreated than the Bat-Man. As originally envisioned by creator Bob Kane in 1939, Batman was a dark character who walked the tightrope between ... Blade Runner
Spoiler Alert: This review freely discusses elements from throughout the movie's plot. Those who have not seen the movie and don't want to know about things in advance are encouraged to return after having seen the film. In the nearly 25 years ...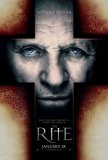 Rite, The
It has long been my opinion that Hollywood is more fascinated by the subject of exorcism than the public in general. The Exorcist did for this horror subgenre what Jaws accomplished for sharks. Sure, there have been sequels and knock-offs, but no...