Movies starring Shawn Hatosy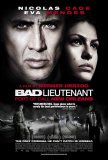 Bad Lieutenant: Port of Call New Orleans
When artistic and marketing impulses collide, you end up with an unwieldy title like Bad Lieutenant: Port of Call New Orleans. Director Werner Herzog's preferred name, Port of Call New Orleans, was deemed unsuitable by producer Edward R. Pressman,... Cooler, The
The Cooler, as icy a title as you're likely to find, is about the efforts of one man to find his luck (or, to be more precise, some form of luck other than that of the bad variety). Rarely has a more pathetic individual been captured and portrayed ... Outside Providence
Outside Providence is a simple coming of age story, a nostalgia-soaked trip back to the mid-'70s when the social fabric of the American youth was stitched together by sex, drugs, and rock music. The film, despite never venturing into uncharted ter...