Movies starring Steven Strait 10,000 B.C.
I suppose there's some entertainment value to be had from the sheer badness of 10,000 B.C. The movie takes itself serious enough that, viewed from a warped perspective in a state of inebriation, it might actually be fun. Seen in more mundane circ...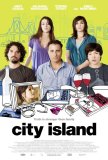 City Island
There is something a little retro about the relaxing blend of screwball comedy and low-key drama that represents Raymond De Felitta's City Island. An indie of the sort that achieved popularity during the 1990s but which has since fallen out of fav... Sky High
Initially, Sky High looked like it was going to be one of the summer's throw-away movies - a family comedy with suspicious similarities to last year's The Incredibles. Imagine my surprise when I discovered that not only is Sky High too good to be ...