City Island (United States, 2010)
March 15, 2010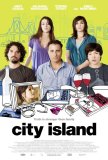 There is something a little retro about the relaxing blend of screwball comedy and low-key drama that represents Raymond De Felitta's City Island. An indie of the sort that achieved popularity during the 1990s but which has since fallen out of favor, City Island offers jokes worth laughing at and characters who earn their good turns of fortune. As was the case in his earlier film, Two Family House, De Felitta shows an ability to find the humanity of his characters and play that characteristic both for laughs and for a more honest, heartfelt response. Not everything in City Island works - some of the secrets are obvious plot devices - but, in terms of feel-good, undemanding entertainment, this is as good as anything I have seen thus far in 2010.
As we are told in an introductory monologue, City Island is a one-square mile section of the Bronx - a fishing village comprised of "mussle-suckers" (newcomers to City Island) and "clam-diggers" (those whose families have lived there for generations). Prison guard Vince Rizzo (Andy Garcia) is a proud clam-digger, but he has secrets. A closet actor, he lies to his lovely wife, Joyce (Julianna Margulies), about going to poker games when he's really traveling into the city to attend an acting class presided over by the opinionated Michael Malakov (Alan Arkin). Joyce, recognizing her husband isn't being truthful, suspects he's having an affair. But Vince has an even bigger secret: a newly paroled prisoner (Steven Strait) who has been offered lodging on his property, isn't just some random ex-con; he's Vince's son. No one knows this except Vince and Molly (Emily Mortimer), his partner at the acting class. Vince isn't the only one with secrets. His son, Vince Jr. (Ezra Miller), has a fetish for fat women. His daughter, Vivian (Dominik Garcia-Lorido), works as a stripper. And, as the story progresses, there are opportunities for more truths to be hidden until they all come tumbling out in a scene of pinpoint comedic timing and surprising dramatic tension.
City Island gives Andy Garcia the opportunity to play an "everyman," something of a rarity for the tough-guy actor who normally portrays cops or mobsters. Vince is blue collar through-and-through, and treats his passion for acting as if it's a dirty secret. He slips into the bathroom to read a book on Marlon Brando and hides his videotapes of the actor's movies in a place where his wife is unlikely to find them. The analogy is a teenager with porn magazines - and that's the level of shame Vince feels. Garcia is very good in the role, reminding us of how much he has grown since he was a young hotshot with limited emotional range in The Untouchables.
With her hair straightened, Julianna Margulies hardly resembles the actress who cut her teeth on E.R. opposite George Clooney. De Felitta gives her some biting dialogue which she spits out with real venom. She's got a soft side, too, which is a good thing for Vince. Emily Mortimer is underused, filling the role of Vince's confidant. It's a nice role-reversal; this sort of part normally goes to an actor, allowing for some male bonding. The Vince/Molly relationship is strictly platonic, which is another welcome touch - Narrative 101 would call for a romance. There's also a sly in-joke related to Mortimer's accent.
The secondary characters are provided with just enough meat on their subplots to keep them interesting without threatening to dominate the story. Vince Jr. is smart but socially inept, and he likes big women. His pick-up lines need work. When asking out a plus-size girl at school, he suggests this activity for their date: "I could feed you donuts." Guess how far that gets him. Vivian is annoyed at having to go home for spring break since it means giving up shifts at the strip joint. And Michael turns out not to be the ideal role model for struggling would-be actors.
De Felitta's "insider" perspective into the ups-and-downs of breaking into show business shines through in many of Vince's scenes. Molly's speech about the realities of an audition is both funny and insightful; it italicizes truths about acting while maintaining a sense of humor. Sadly, in this economy, her description of the wrenching experience of trying to get a gig will meet with universal understanding. Today, it's not just actors who stand in long lines and face summary rejection when applying for an employment opportunity.
City Island builds to a big climax where things go pretty much as we expect - and hope - they will. Still, even though the results may be unsurprising, the trajectory taken by the characters to reach that point sometimes is not. De Felitta toys with the audience by presenting formulas and rejecting them. Expected events don't always occur as we anticipate. That's how the movie ends up simultaneously feeling comfortable and unconventional. It's not deep or challenging, but it is enjoyable.
---
City Island (United States, 2010)
---
Three...better movies of this genre
worse movies of this genre
Three...better movies of Andy Garcia
worse movies of Andy Garcia
Three...better movies of Julianna Margulies
(There are no more better movies of Julianna Margulies)
worse movies of Julianna Margulies
(There are no more worst movies of Julianna Margulies)
Three...better movies of Emily Mortimer
worse movies of Emily Mortimer