Movies starring Tara Fitzgerald Brassed Off!
Unemployment is a bane almost everyone can appreciate -- a universal affliction that becomes a sobering reality for many people during even the best of economic times. And, while the loss of each individual job is traumatic, that's nothing com...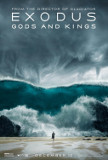 Exodus: Gods and Kings
Exodus represents Ridley Scott's attempt to emulate Cecil B. DeMille. Comparisons with The Ten Commandments are both unavoidable and appropriate. Considering the mixed critical reaction to the 1956 spectacle, it is perhaps surprising that Exodus co... Sirens
On the surface, it's easy to assume that Sirens is a lighthearted erotic romp through the secluded wilds of Australia's Blue Mountains in the 1930s. Like in some modern-day garden of Eden, there are snakes, ripening fruit, and plenty of naked bodi... The Englishman Who Went up a Hill but Came down a Mountain
The title of this film, The Englishman Who Went Up a Hill but Came Down a Mountain, is so long that it can function as a plot synopsis in its own right. "The Englishman" in question is British cartographer Reginald Anson, played by Hugh Grant with...