Movies starring Pete Postlethwaite Amistad
Here's a word analogy: Amistad is to The Lost World as Schindler's List is to Jurassic Park. In 1993, after Steven Spielberg made the monster dino hit, many critics described Schindler's List as the director's "penance" (as if there was a need for... Brassed Off!
Unemployment is a bane almost everyone can appreciate -- a universal affliction that becomes a sobering reality for many people during even the best of economic times. And, while the loss of each individual job is traumatic, that's nothing com... Constant Gardener, The
For his follow-up to City of God, Brazilian director Fernando Meirelles has elected to adapt John Le Carré's The Constant Gardener into movie form. A slow-burn thriller simmering with international intrigue, the book would at first seem too long ... Dark Water
Dark Water is the latest in the gaggle of Japanese ghost stories turned into major American motion pictures. The obvious virtue of this effort is that, unlike its predecessors The Ring and The Grudge, it makes sense. The problem is that director ... In the Name of the Father
Sometimes it's only through the greatest of tragedies and the gravest of injustices that human beings learn to relate to each other honestly and openly. Nowhere is this more apparent than in Jim Sheridan's searing In the Name of the Father, where ... James and the Giant Peach
Almost everything that was true of 1993's Nightmare Before Christmas holds for 1996's James and the Giant Peach. Based (rather faithfully) on Roald Dahl's children's story, this movie uses a combination of live-action sequences and stop-motion an... Lost World, The: Jurassic Park 2
When Jurassic Park was released in 1993, it set a new standard for state-of-the-art visual and audio effects. It was suddenly possible to see humans and dinosaurs interacting in a way that had never before been possible, and to feel the entire theat... Omen, The
The Omen is regarded as a horror classic, although I have never been able to figure out why Richard Donner's second-rate exploitation flick has been accorded such a lofty status. Since the 2006 re-make is almost identical to its predecessor (even ... Romeo + Juliet
In Looking for Richard, actor/director Al Pacino expresses his great hope for his film -- to extend his enthusiasm for the Bard's plays to a broader audience. In a very different way, that's what Baz Luhrmann (Strictly Ballroom) is attempting to d...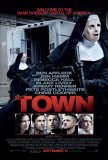 Town, The
In some ways, The Town can be considered a throwback, at least insomuch as any movie reflecting the approach of '80s and '90s cop dramas can be tagged with such a label. With a crisp, clear style and a focus on character, director Ben Affleck is a...