Movies with cinematographer Affonso Beato All About My Mother
The Pedro Almodovar of the late 1990s is not the same director who once engaged audiences with his kinky and offbeat views of sex and relationships. This new, kinder, gentler Almodovar is more concerned about conventional film elements like plot a... Dark Water
Dark Water is the latest in the gaggle of Japanese ghost stories turned into major American motion pictures. The obvious virtue of this effort is that, unlike its predecessors The Ring and The Grudge, it makes sense. The problem is that director ... Ghost World
Ghost World could easily be considered an "anti-Hollywood coming of age story". Although it follows the contours of the genre, the path is different enough to make the movie seem fresh, non-formulaic, and occasionally surprising. Of course, for s... Live Flesh
Almodovar. To those familiar with his body of work, that name is more than just a way to identify one of today's premiere directors -- it offers valuable insight into the scope and intent of a movie. Since his debut in 1980 with Pepi, Luci, Bom, ... Love in the Time of Cholera
The novel Love in the Time of Cholera is a meditation on love in its many forms. It is a serious work from Nobel Prize winning author Gabriel Garcia Marquez. The movie Love in the Time of Cholera is a misstep of nearly epic proportions. As adapt...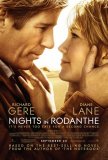 Nights in Rodanthe
I can kind-of, sort-of see how this story might work as a novel. Bad dialogue doesn't sound as howlingly awful when not spoken aloud. Idiotic plot contrivances don't seem as painful and obvious. A love affair depends only on the spell woven by t... Queen, The
With The Queen, Stephen Frears has at least two items on his agenda: to humanize the head of the British monarchy while at the same time indicating how far removed she has become from the concerns of her subjects. He also poses questions about the...