Movies directed by Mike Newell Donnie Brasco
Al Pacino in a Mafia movie feels as natural as peanut butter with jelly. Mike Newell, the director of such popular British comedies as Enchanted April and Four Weddings and a Funeral, is another matter altogether. When you think of a director... Enchanted April
Watching Enchanted April, the story of four dissimilar women in post-World War One England going on a holiday to a secluded castle in Italy, is the next best thing to taking a vacation. It casts a warm, relaxed spell that evokes feelings guarantee... Four Weddings and a Funeral
The simplest and most honest expression of praise that I can offer Mike Newell's latest movie is that it represents two hours of solid movie magic. Four Weddings and a Funeral possesses the rare ability to make an audience laugh (and laugh hard) a... Harry Potter and the Goblet of Fire
The best thing to happen to the Harry Potter movie franchise was for journeyman director Chris Columbus to step down. After turning out adequate adaptations of J.K. Rowling's Harry Potter and the Sorcerer's Stone and Harry Potter and the Chamber o... Love in the Time of Cholera
The novel Love in the Time of Cholera is a meditation on love in its many forms. It is a serious work from Nobel Prize winning author Gabriel Garcia Marquez. The movie Love in the Time of Cholera is a misstep of nearly epic proportions. As adapt...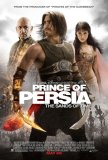 Prince of Persia: The Sands of Time
In the wake of a successful endeavor to transform a popular Disney theme park attraction (Pirates of the Caribbean) into a motion picture blockbuster, uber-producer Jerry Bruckheimer has now turned his attention to a well-received video game series... Pushing Tin
Pushing Tin, from acclaimed British director Mike Newell (Four Weddings and a Funeral, Enchanted April), is the latest example of a movie that wastes a strong cast on a lame script. The film, billed as a dramatic comedy about the lives of air traf...