Movies starring Miranda Richardson Apostle, The
For Robert Duvall, The Apostle was a labor of love. It is said that every man or woman has at least one story to tell; this is Duvall's. The film was in the making for over a decade, and, when no studio bought into it, Duvall put up the money... Chicken Run
Many fans of Nick Park have been wondering what the animated filmmaker has been doing recently. Known to millions across the globe as the creator of the characters Wallace & Gromit (a British inventor with a penchant for Rube Goldberg devices and ... Crying Game, The
The Crying Game, the creation of Irish director/writer Neil Jordan, loosely fits into the category of a "thriller", although to saddle it with such a label is perhaps to do it a great injustice, since this immediately causes images of the Die Hard ... Designated Mourner, The
If you were bored by My Dinner with Andre, The Designated Mourner isn't for you. If Spalding Gray's monologues put you to sleep, prepare to snooze through The Designated Mourner. And if you think Twister is perfectly paced, give The Designated Mo... Enchanted April
Watching Enchanted April, the story of four dissimilar women in post-World War One England going on a holiday to a secluded castle in Italy, is the next best thing to taking a vacation. It casts a warm, relaxed spell that evokes feelings guarantee... Fred Claus
Making an enjoyable family Christmas comedy must be one of the most difficult things to accomplish in Hollywood, because the late-year presence of a good one in multiplexes is more rare than a White Christmas in New York City. Fred Claus, which fi... Harry Potter and the Goblet of Fire
The best thing to happen to the Harry Potter movie franchise was for journeyman director Chris Columbus to step down. After turning out adequate adaptations of J.K. Rowling's Harry Potter and the Sorcerer's Stone and Harry Potter and the Chamber o... Kansas City
Kansas City is Robert Altman's disappointing followup to the equally disappointing Ready to Wear, which underwhelmed critics and audiences alike following its Christmas 1994 release. While Kansas City is a modest step forward for one of America's ...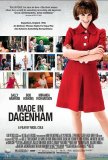 Made in Dagenham
Made in Dagenham is a fact-based "social conscience film," meaning that it explores an historical struggle against a societal ill. In this case, it's gender inequality - unequal pay for equal work. By chronicling one of the key events that led to t... Phantom of the Opera, The
I have never been a fan of Andrew Lloyd Webber's phenomenally popular stage musical version of The Phantom of the Opera, so it will probably come as no surprise that the film adaptation, which is faithful to its inspiration, left me feeling underwh...