Movies with cinematographer Robert Gantz Assault on Precinct 13
What is the world coming to when the film community is remaking John Carpenter movies? Admittedly, Assault on Precinct 13 isn't the best example of Carpenter's expert craftsmanship, but it was the picture that got him noticed, and that notice enab...
Mesrine: Killer Instinct
If there's one thing to be disliked about Mesrine: Killer Instinct, it's the inauspicious ending. Part One of a two-part saga (with the conclusion in Mesrine: Public Enemy Number One), the movie feels incomplete, which is unsurprising considering ...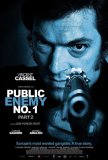 Mesrine: Public Enemy No. 1
Mesrine: Public Enemy No. 1 concludes the story begun in Mesrine: Killer Instinct. Although the two pieces can be seen as halves of a whole, it's not hard to understand why the project was bisected. Shootouts, prison escapes, and random acts of v... Mindhunters
What should a viewer expect from a movie that has lain in limbo for more than two years while at least three aborted release dates passed it by? Pretty much what Mindhunters delivers. The only outstanding question is why Dimension decided to dump t...