Movies directed by Frank Miller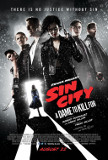 Sin City: A Dame to Kill For
For those who appreciated Robert Rodriguez and Frank Miller's 2005 campy, kinetic film noir homage, Sin City, the 2014 follow-up, Sin City: A Dame to Kill For is unlikely to disappoint. It's more of the same and, although a good deal of the freshne... Sin City
Sin City is the most visually inventive comic book adaptation to make its way to a movie screen. While other directors have attempted to remain faithful to the look and "feel" of their source material, Robert Rodriguez has taken things a step furt...
Spirit, The
The Spirit is an example of what can happen to a comic book-inspired movie when the sense of style becomes so pervasive that it overwhelms everything else, including an unremarkable superhero adventure. Unfortunately, the eye candy quickly grows st...