Movies directed by Michael Gondry Be Kind Rewind
Despite some solid laughs and a feel-good ending, Michael Gondry's Be Kind Rewind exists far from the mainstream and its appeal will be limited to those who embrace the kind of awkward quirkiness that defines the production. This comedy/fantasy/dra...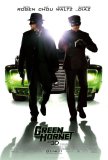 Green Hornet, The
Seen in standard (non-IMAX) 3-D. After several years of minimal screen presence, superheroes are coming back to multiplexes in 2011 with a vengeance. First out of the starting gate is Michael Gondry's re-imagination of The Green Hornet, a proper... Science of Sleep, The
The Science of Sleep is director Michael Gondry's feature follow-up to Eternal Sunshine of the Spotless Mind and, in many ways, it feels like an inferior cannibalization of the 2004 movie. Both movies spend lengthy sequences inside the protagonist...