Movies directed by Shekhar Kapur Bandit Queen
Controversy is swirling around Bandit Queen, likely to be one of 1995's most discussed features. Supposedly based on the real-life experiences of a modern Indian folk hero named Phoolan Devi, the authenticity of the film's script is now unde... Elizabeth
The reign of Queen Elizabeth I of England began in 1558, when, at the age of 25, she succeeded her half-sister, Mary. Over the course of the next 45 years, Elizabeth established herself as one of the most popular and successful monarchs ever to ru... Elizabeth: The Golden Age
Historical epics are often met with mixed reactions from the masses. For every singular triumph like 300, there are many more disappointments. So it should be no surprise that producers, eager to fill cold seats with warm bodies, have returned to...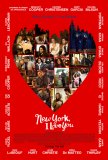 New York, I Love You
New York, I Love You is the second in a planned five-film series of anthologies that explores different meanings of love. The first movie, Paris, I Love You, was released in 2007. There are also projected excursions to Jerusalem, Rio, and Shangha...
Run Time: 1:40
U.S. Release Date: 2009-10-16
MPAA Rating:
"R" (Profanity, Sexual Situations)
Genre:
DRAMA
Director:
Fatih Akin, Yvan Attal, Allen Hughes, Shunji Iwai, Jiang Wen, Shekhar Kapur, Joshua Marston, Mira Nair, Natalie Portman, Brett Ratner, Randall Balsmeyer
Cast:
Shia LaBeouf
,
Andy Garcia
,
Christina Ricci
, ...