New York, I Love You (France/United States, 2009)
October 13, 2009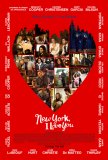 New York, I Love You is the second in a planned five-film series of anthologies that explores different meanings of love. The first movie, Paris, I Love You, was released in 2007. There are also projected excursions to Jerusalem, Rio, and Shanghai. This installment is set in New York and features contributions from Fatih Akin, Yvan Attal, Allen Hughes, Shunji Iwai, Wen Jiang, Shekhar Kapur (filling in for Anthony Minghella, who died shortly before filming was to begin), Joshua Marston, Mira Nair, Brett Ratner, and Natalie Portman (making her directorial debut). Two segments were cut from the final print (but were seen in the version that premiered at the 2008 Toronto Film Festival), and these were directed by Scarlett Johansson (her directorial debut) and Andrei Zbyagintsev. (Presumably, these will be available on the DVD, either re-incorporated or as extras.) Oddly, the filmmaker best known for his Valentines to New York, Woody Allen, is not participant.
New York, I Love You has the strengths and weaknesses one typically associates with anthology films of this sort. Since all of the vignettes are short, those that don't work are bypassed fairly quickly (there are only one or two). The pacing is brisk and, for the most part, the interweaving of stories and limited crossing over of players does not feel forced. On the other hand, there's too little time for any significant character development and some of the more intriguing narrative arcs cry out for expansion.
There are ten segments, each of which lasts between six and twelve minutes, and there's plenty of connective tissue designed to keep the movie from feeling too fragmented. (Some of this is accomplished by having a videographer wandering around the city, capturing images of the various characters who appear in their own episodes.) Each story explores a different aspect of love: matrimonial, platonic, sexual, parental, obsessive, etc. With the exception of the rather dreary collaboration between the late Anthony Minghella and Shekhar Kapur, there's a broadly upbeat tone across the entire production.
The first, and arguably least plausible, of the stories, is Jian Wen's tale of a thief (Hayden Christensen), his mark (Andy Garcia), and the mark's mistress (Rachel Bilson). This is followed by Mira Nair's contribution, which contemplates a flirtation between a Hasidic woman (Natalie Portman) and an Indian man (Irrfan Khan) who are making a diamond transaction on the eve of her wedding. In Shunji Iwai's playful episode, Orlando Bloom and Christina Ricci engage in multiple, frequent phone conversations before finally meeting one another. The Kapur segment features Julie Christie as an aging singer who is waited on in a hotel room by Shia LaBeouf and John Hurt. Brett Ratner directs James Caan as the father of a wheelchair-bound girl (Olivia Thirlby) who accompanies a lovelorn boy (Anton Yelchin) to his prom. Yvan Attal provides a witty and sexually explicit street conversation between Ethan Hawke and Maggie Q, before turning his attention to a similar interaction between Chris Cooper and Robin Wright Penn. Allen Hughes tells of the aftermath of a one-night stand between two people who met at a bar (Drea de Matteo and Bradley Cooper) and can't stop thinking about one another. Joshua Marston offers an honest portrayal of a seaside stroll with a man (Eli Wallach) and woman (Cloris Leachman) who have been married for 63 years. Natalie Portman's debut is about the relationship between a loving father (Cesar De León) and his daughter, who looks nothing like him. Finally Fatih Akin tells of a painter (Ugur Yucel) who is obsessed with a Chinese herbalist (Qi Shu).
None of the stories has enough screen time to allow for the characteristics and abilities of the directors to shine through. As a result, it's impossible to say whether Natalie Portman's first outing behind the camera is successful; the best that can be said is that it's competently done. Most of the segments are too short and slight to be considered more than inconsequential. They pass and are easily forgotten, although many of them boast O. Henry-style twist endings. More than one is like an extended, well-told joke with a strong punch line. There are, of course, a few standouts, and those merit mention.
My favorite of the episodes is the conversation/seduction that occurs between Chris Cooper and Robin Wright Penn. Despite being together for no more than six or seven minutes, they sizzle. There's a connection between them and the fact that both are poised, assured actors cements the scene. It's neither too short nor too long and ends perfectly. I was also engaged by the phone relationship between Orlando Bloom and Christina Ricci. The playful segment is oddly reminiscent of a similar sequence in Cameron Crowe's Elizabethtown, where Bloom was linked by phone to Kirsten Dunst. Finally, the beach walk with Eli Wallach and Cloris Leachman is so perfect in its tone and so honest in its representation of two people who express their love through argumentative behavior, that it warmed my frosty heart.
The only segment to strike a wrong chord is the Julie Christie one. Not only is it ambiguous in intent, but it's sluggish and seems divorced from the other stories, which take place in the same moving, flowing city. However, considering Minghella's involvement (he wrote it), it would have been disrespectful to shave it off along with Johansson and Zbyagintsev's contributions, even though that arguably would have made New York, I Love You a better all-around motion picture.
For a movie that's about living and loving in New York, the city comes across as a surprisingly generic place. There are the obligatory shots of recognizable landmarks and one story makes effective use of Central Park but, for the most part, these stories could have taken place in any big city around the globe. Ultimately, though, New York, I Love You is more about the characters and their vignettes than it is about the city in which they transpire, so this represents only the smallest cause for dissatisfaction.
---
New York, I Love You (France/United States, 2009)
Director:
Fatih Akin, Yvan Attal, Allen Hughes, Shunji Iwai, Jiang Wen, Shekhar Kapur, Joshua Marston, Mira Nair, Natalie Portman, Brett Ratner, Randall Balsmeyer
Cast:
Shia LaBeouf
,
Andy Garcia
,
Christina Ricci
,
Hayden Christensen
,
Robin Wright Penn
,
Maggie Q
,
Chris Cooper
,
James Caan
,
Orlando Bloom
,
Natalie Portman
,
Julie Christie
Screenplay:
Emmanuel Benbihy (concept)
Cinematography:
Benoit Debie, Pawel Edelman, Michael McDonough, Declan Quinn, Mauricio Rubinstein
Music:
U.S. Distributor: Vivendi Entertainment
---
Three...better movies of this genre
worse movies of this genre
Three...better movies of Shia LaBeouf
worse movies of Shia LaBeouf
Three...better movies of Andy Garcia
worse movies of Andy Garcia
Three...better movies of Christina Ricci
worse movies of Christina Ricci