Movies with music written by Richard Gibbs Say Anything
Say Anything is one of the best in a long line of teen romance movies, if not the best. Unlike many of its fellow genre entries, it is not filled with crude sex jokes, nudity, a lobotomized population, and poorly-defined subplots. And, while ... 10 Things I Hate about You
Never has the teen movie genre been more active than it is today. Seemingly every weekend, there's a new entry, and the solid box office performance assures that there will be many more to come. A trend with recent teen films has been to recycle ... John Tucker Must Die
The gulf is vast between what the studio wants us to think John Tucker Must Die is and what it really is. The marketers and publicists would have us believe this is a dark, edgy teen comedy about a band of two-timed girls taking revenge on the school... Dr. Dolittle
When I first heard that Twentieth Century Fox intended to re-make Dr. Dolittle with Eddie Murphy in the title role, I suspected that it was a bad move (the success of The Nutty Professor notwithstanding). Now that I have endured the 85 minute moti...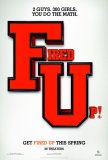 Fired Up!
They might as well have called this Cheer Movie. About the only thing to differentiate this dud of a comedy from the likes of Date Movie, Epic Movie, and Disaster Movie is the absence of the names Aaron Seltzer and Jason Friedberg on the credits....