Beautiful Day in the Neighborhood, A (United States, 2019)
November 22, 2019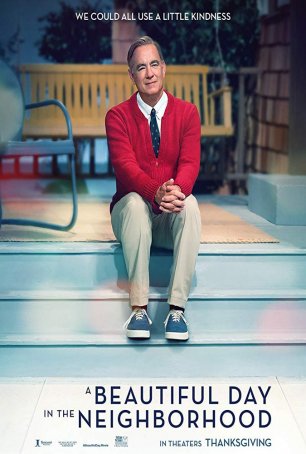 A case could be made that everything is made better with Mr. Rogers added to the mix. Take A Beautiful Day in the Neighborhood. A standard-order redemption/salvation drama about healing a poisoned father/son relationship, this story is leavened by the inclusion of Fred Rogers (Tom Hanks) as a key ingredient. The philosophy of kindness and inclusion taught by Rogers in his iconic TV series, "Mr. Rogers' Neighborhood," which was so easy at one time to lampoon (just ask Eddie Murphy), has now become a touchstone for many who grew up with the program.
Although the advertising and marketing for A Beautiful Day in the Neighborhood focuses heavily on Mr. Rogers, he is more of a supporting character than the lead. Based on the 1998 Esquire article, "Can You Say…Hero?" by award-winning journalist Tom Junod, the movie illustrates how, during the process of interviewing Mr. Rogers for a "puff piece," the writer (re-named in the movie as Lloyd Vogel, and played by Matthew Rhys) undergoes a personal transformation. In trying to strip away Mr. Rogers' TV image, Lloyd embarks on what amounts to a journey of self-discovery that results in the healing of a wound created when his father, Jerry (Chris Cooper), abandoned him and his dying mother. In addition to re-uniting with Jerry, Lloyd strengthens his bond with his wife, Andrea (Susan Kelechi Watson), and infant son. All the while, Mr. Rogers looks on serenely, offering homilies and advice as needed. In real life, he and Junod became fast friends following the article's completion and the writer is on record as saying that Fred Rogers didn't play a role on TV; the screen personality is real.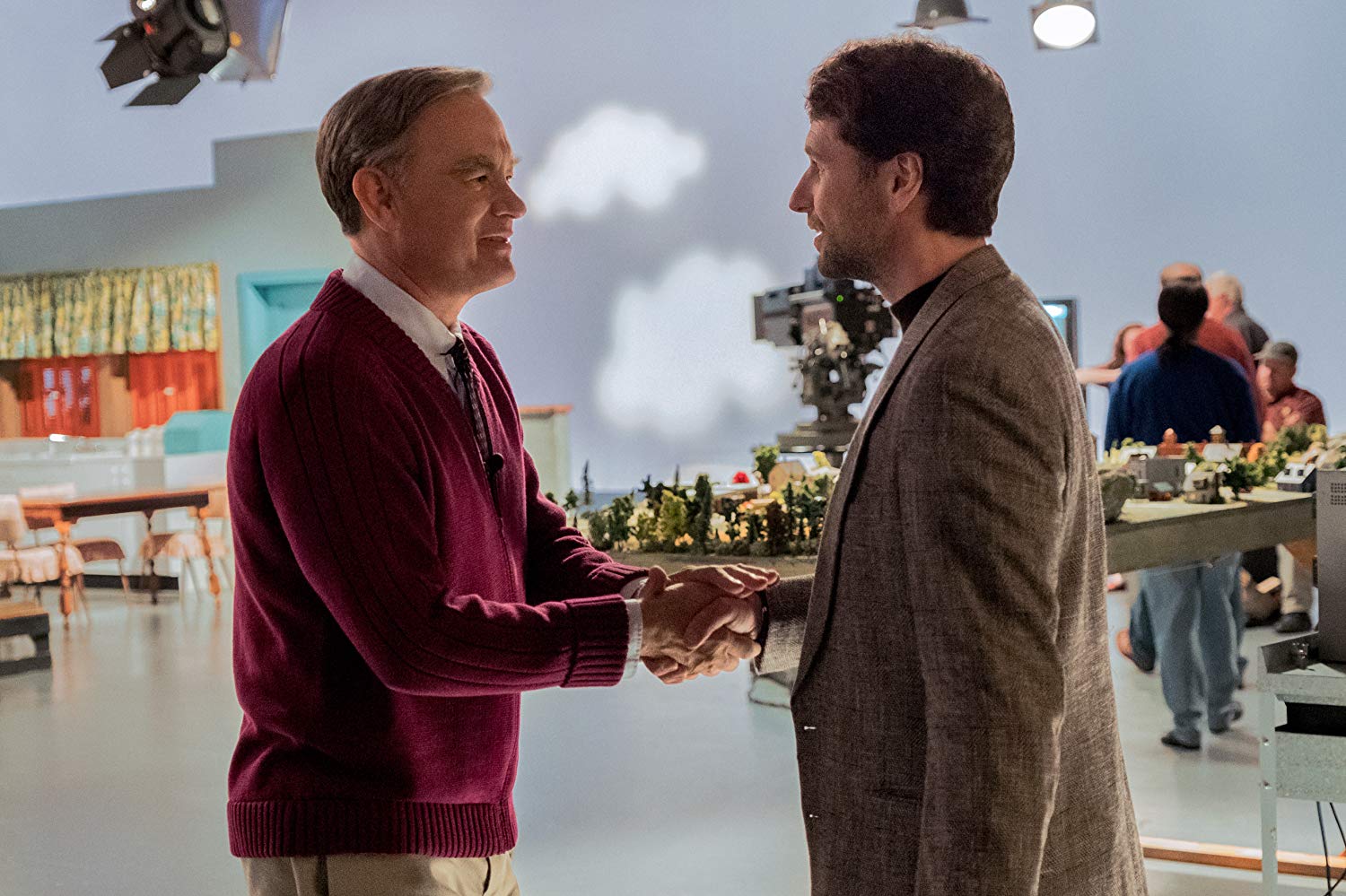 Director Marielle Heller (The Diary of a Teenage Girl) knows no shame when it comes to mining nostalgia for maximum effect. (I say that kindly.) From the movie's "Mr. Rogers' Neighborhood"-inspired score to the Rogers-esque miniature cityscapes of Pittsburgh and Manhattan, Heller populates the film with visual cues and references. Joanne Rogers (Fred's widow) and the "real" Mr. McFeely, David Newell, have cameos in a Chinese restaurant scene. The film's re-creations of set pieces and episode segments are spot-on. Hanks sings full renditions of "Won't You Be My Neighbor?" and "It's Such a Good Feeling" as Mr. Rogers first dons his sneakers and cardigan at the beginning then removes them at the end. All of this may cause Gen-Xers and Millennials to tear up – although perhaps not as forcefully as when New York City subway riders break into a spontaneous serenade.
Goodwill permeates A Beautiful Day in the Neighborhood and Heller doesn't shy away from the anti-cynical nature of the story. At its core, this is about Rogers' influence in saving a man's soul. The message is that there are ways to manage sadness and anger. This is not a Fred Rogers biopic. What more could be done in that regard than was accomplished in 2018's documentary, Won't You Be My Neighbor? (which featured Junod's reminiscences, among those of others). The film is uplifting although there are moments of subtle melancholy. At the time when the movie transpires, Rogers was 71. The show was drawing to a close (it ended in 2001). Rogers would die of stomach cancer in 2003. Keeping all these things in mind, there's a sense of doors closing.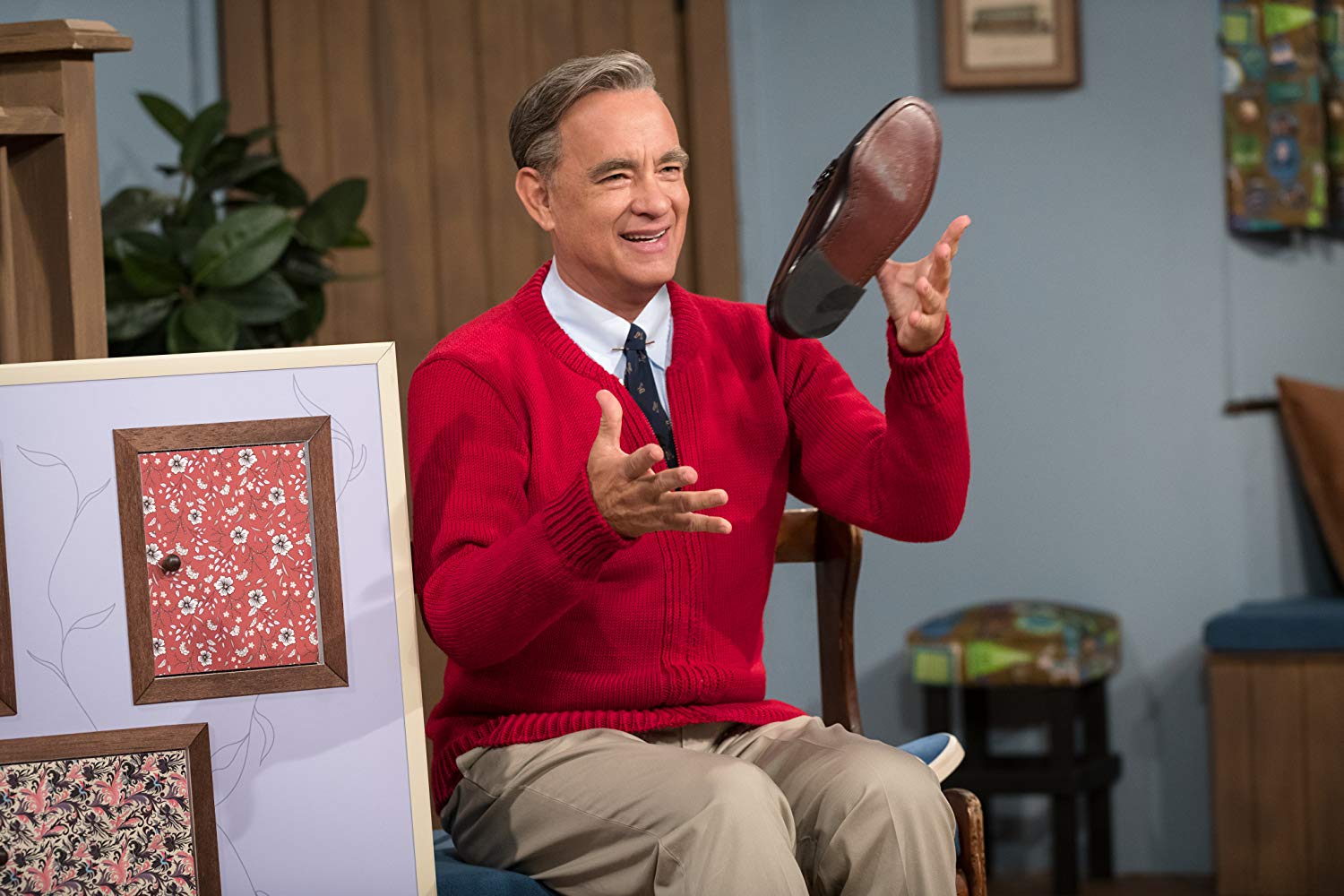 How good is Tom Hanks in the role? In terms of recreating Fred Rogers' appearance and voice, there are discrepancies. After all, there's only so much a comb, makeup, and costume design can do to transform a recognizable A-list movie star into an equally recognizable children's television host. There are times when, watching the movie, we're aware that it's "Tom Hanks playing Mr. Rogers" rather than simply "Mr. Rogers." What the actor gets right, however, is the essence of the man – his innate gentleness, kindness, and ability to relate to children. When dissecting Hanks' ability to inhabit the character of a real-life person, I'd place this behind his recreations of Walt Disney and Captain Phillips (and alongside that of Sully Sullenberger). In an ironic twist, after filming, Hanks learned via genetic testing that he and Mr. Rogers are distant cousins (sixth cousins, to be exact).
For those on the lookout for a motion picture antidote to the current climate of partisan bitterness and cynicism that permeates everyday life, A Beautiful Day in the Neighborhood stands ready. A celebration of Mr. Rogers and the healing capabilities of his words and doctrine, the movie may not be a splashy as many of the year-end multiplex stocking stuffers but the experience it offers tugs effectively at the heart strings.
---
Beautiful Day in the Neighborhood, A (United States, 2019)
---

Three...better movies of this genre
worse movies of this genre
Three...better movies of Tom Hanks
worse movies of Tom Hanks
Three...better movies of Matthew Rhys
worse movies of Matthew Rhys
(There are no more worst movies of Matthew Rhys)
Three...better movies of Chris Cooper
worse movies of Chris Cooper