Carol (U.S./U.K./France, 2015)
December 06, 2015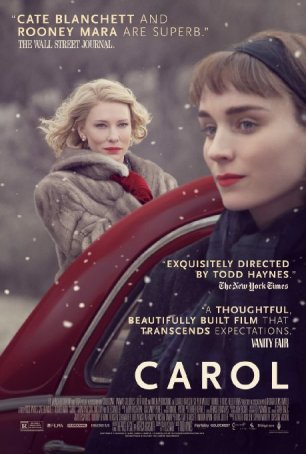 Carol is a haunting motion picture - the kind of film that stays with the viewer long after the multiplex's neon signage has disappeared from the rear-view mirror. Despite having a deceptively simple storyline, the film is entirely unlike any other period piece lesbian love story. By relying more on tone and image than traditional narrative devices, director Todd Haynes has fashioned a movie whose moodiness lingers. Especially during the first 90 minutes, Carol is an immersive experience that invites the viewer to slow down and amble along at its leisurely pace.
Carol is based on Patricia Highsmith's novel The Price of Salt. Phyllis Nagy, a friend of Highsmith's, worked on the screenplay for 15 years and, although she can't say with certainty that the author would have approved of the cinematic version, she believes Highsmith would have been more pleased with this adaptation than several earlier screen interpretations of her work (Strangers on a Train and Purple Noon in particular). Nagy and director Todd Haynes (Far from Heaven) have approached the material as a "love story" rather than a "lesbian love story." This is not intended to be a "message" film. Because it is set in the 1950s, the cultural bias against same-sex relationships is part of the framework but Nagy's screenplay never becomes strident or preachy. The injustices of the situation are dramatized without commentary. (Unlike the recent Suffragette, which stumbles into this snare.)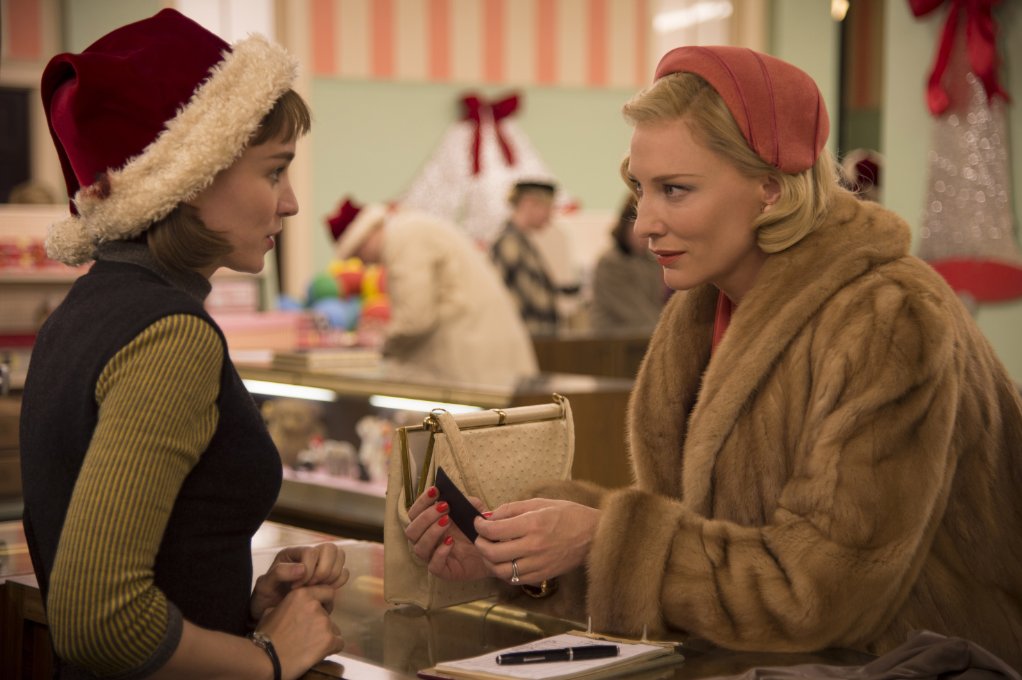 The movie starts and finishes in 1952/53 New York City with those sequences bookending a road trip that takes the protagonists to the Midwest. At the center is the love story of wealthy socialite Carol Aird (Cate Blanchett) and young department store clerk Therese Belivet (Rooney Mara). The two meet when Therese sells Carol a train set. The attraction is immediate and, after several subsequent encounters, the two find themselves increasingly drawn to each other. Carol's life is complicated. Her estranged husband, Harge (Kyle Chandler), is trying to obtain full custody of their daughter by using Carol's lesbianism as grounds. To clear her head, Carol decides to embark on a road trip and invites Therese along. In the car and at various stops along the way, an inevitable closeness develops.
Too many motion picture romances suffer from overplotting. The love story often becomes secondary to various subplots and tangents. Carol wisely puts the focus on the interaction between the main characters, relegating the supporting players - Carol's husband and ex-lover, Abby (Sarah Paulson), and Therese's boyfriend, Richard (Jake Lacy) - to secondary roles. The relationship between Carol and Therese develops in a slow, believable fashion and is highlighted as much through glances, facial expressions, and body language as in the dialogue. Haynes captures the subtle nuances of their interaction and the chemistry between Cate Blanchett and Rooney Mara is a critical component.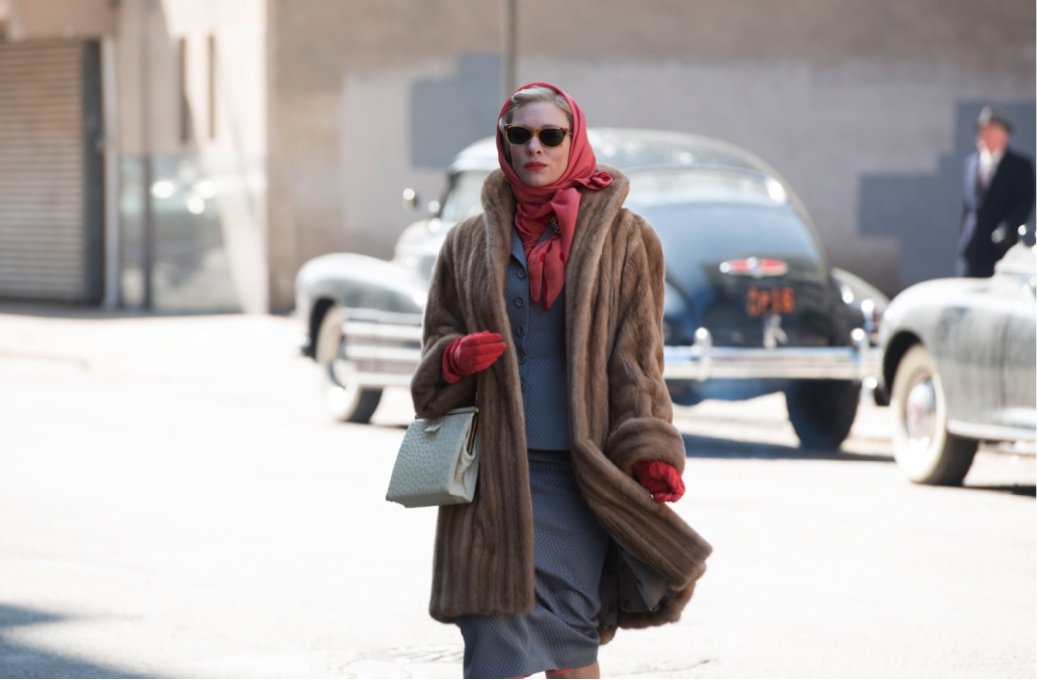 Both actors deserve notice for the manner in which they bring their characters to life. Although Mara is being promoted for a Best Supporting Actress nomination, her performance is more in line with what one expects from a lead role. The first 2/3 of the film is presented from her perspective. Only late in the movie (following the end of the road trip) does the point-of-view change to Carol's. Blanchett's performance is equally accomplished but perhaps a little less difficult to pull off. Mara must convey Therese's growing awareness of her own sexuality during an era when lesbianism is considered abnormal. Carol is already an established homosexual by this point in her life - comfortable with how she feels even if society hasn't yet caught up.
The manner in which Haynes uses images creates a dream-like state. The movie opens with a tracking shot and favors extended takes over quick cuts. The recreation of the 1950s is evocative of how we view that decade from existing photographs and footage of the decade. We enter easily into the world of these characters and quickly become absorbed in their situation. The approach is more European than American in style. Carol finds the perfect tone for its subject matter - at times sober, at times hopeful, at times giddy, and at times mournful - and it ends on a perfect note. This is a deeply moving, under-the-radar motion picture that will likely garner more than a little attention when the Oscar nominations are announced.
---
Carol (U.S./U.K./France, 2015)
Ranked #4 in Berardinelli's Top 10 of 2015
---

Three...better movies of this genre
worse movies of this genre
Three...better movies of Cate Blanchett
worse movies of Cate Blanchett
Three...better movies of Rooney Mara
worse movies of Rooney Mara
Three...better movies of Sarah Paulson
worse movies of Sarah Paulson