Ocean's Eight (United States, 2018)
June 07, 2018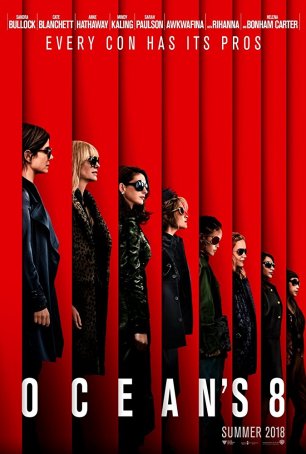 There are three rules for any self-respecting heist movie: (1) the caper should be interesting, convoluted, but easily explained/decoded at the end; (2) although no heist is airtight, the holes shouldn't be apparent to the audience in real time (only afterward, when getting a late-night snack from the refrigerator); and (3) unless the movie is intended as an overt comedy, there should be suspense. Ocean's Eight, a semi-continuation of the '00s "franchise" helmed by Steven Soderbergh, misses the mark on two of three counts, succeeding only at #1. That makes for a surprisingly lackluster experience, unless you're on hand primarily for the fun of seeing eight talented actresses interacting. (Admittedly, there is some appeal in that.)
I enjoyed Soderbergh's remake of Ocean's Eleven as well as the sequels Ocean's Twelve and Ocean's Thirteen. All three were superfluous but worked not only because of cast appeal/chemistry but because the capers were varied and effective. I'll admit that none of these films has aged well. Viewed today, they come across as self-indulgent, bloated, and shallow. Ocean's Eight attempts to replicate the elements that made the previous films successful with one important caveat/gimmick: all the heist participants are now women. Soderbergh remains involved but only as a producer. Gary Ross (The Hunger Games) has moved into the director's chair.
Ocean's Eight retains a paper-thin connection to Ocean's Eleven and its sequels by linking Danny Ocean (R.I.P.) with this movie's lead, his sister, Debbie (Sandra Bullock). There's also an appearance by "lesser" team member Elliot Gould, who was in Eleven, Twelve, and Thirteen. This linkage gets the movie into trouble, however, because of an implied cameo that never happens. All signs point toward a "surprise" reveal; we expect it. When it doesn't happen, it causes at least a little disappointment. Someone should have given the screenplay a polish to tone this down. (No need to sit through the end credits; there's nothing there, either.)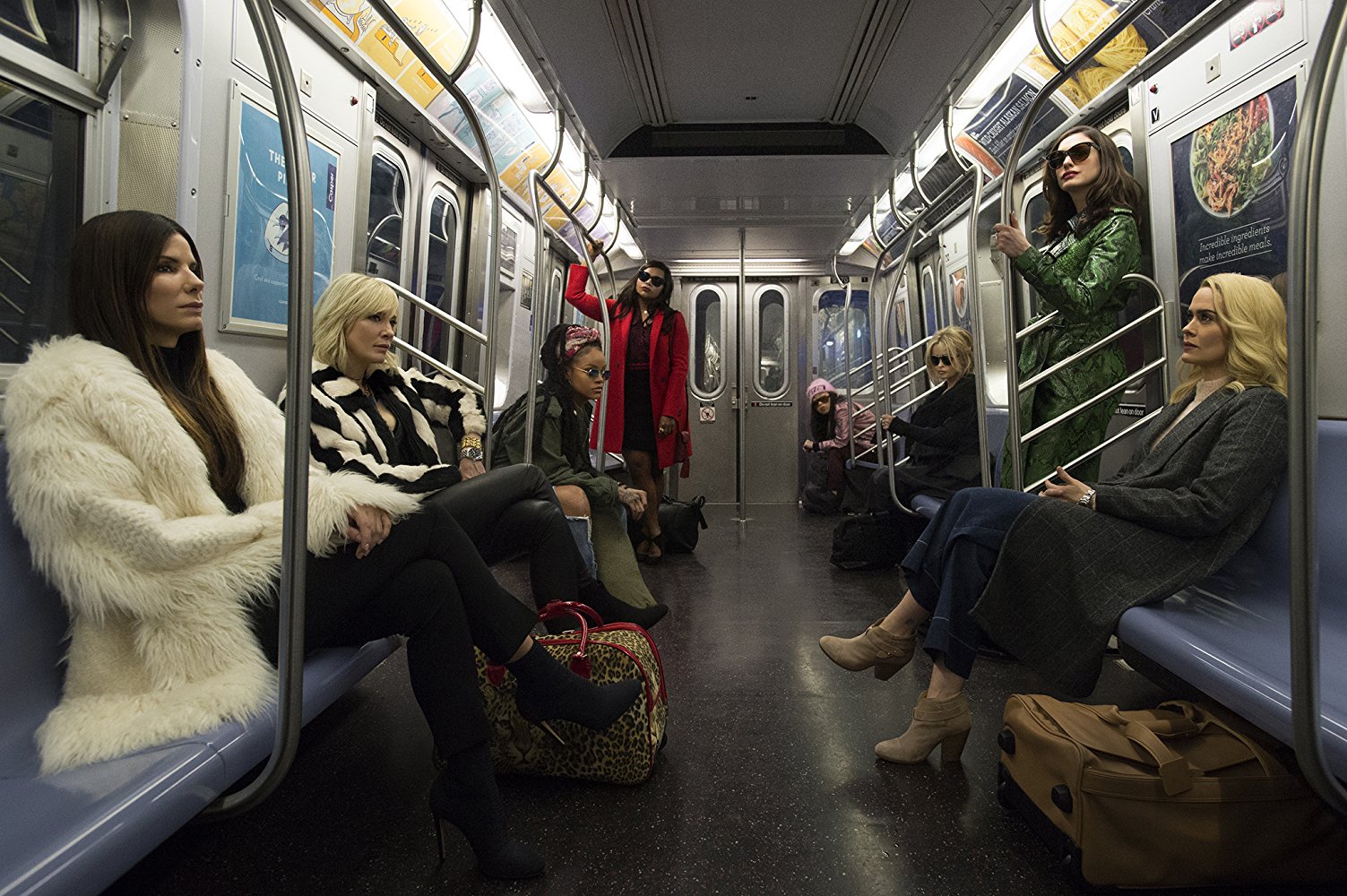 Ocean's Eight opens with Debbie leaving prison and immediately starting work on a scheme she has been refining for the last five-plus years. After about thirty minutes of introductory material the team (of seven) is in place: Debbie's best friend and former partner, Lou (Cate Blanchett); fashion designer Rose Weil (Helena Bonham-Carter); diamond expert Amita (Mindy Kaling); computer hacker Nine Ball (Rihanna); street hustler and pick-pocket Constance (Awkwafina); and fence-turned-housewife Tammy (Sarah Paulson). The "eighth" member of the title is the mark, uber-famous actress Daphne Kluger (Anne Hathaway), who will be wearing a $150 million necklace to a black-tie gala dinner. The goal is to literally steal it off her neck – never mind all the security cameras, the bodyguards, and the magnetic clasp that makes it impossible to remove while Daphne's head is attached to her body.
The movie spends perhaps too much time on the planning of the caper and too little time on its execution, which turns out to be on the underwhelming side. It's also not terribly exciting. Most top-notch heist movies have an extended edge-of-the-seat sequence, but there's nothing like that here. It's as if Ross doesn't want viewers to get worked up and would instead prefer for them to sit back comfortably in their seats. Ocean's Eight is a Bobby McFerrin heist film: Don't Worry, Be Happy.
It was often said of the Soderbergh Ocean's films that the actors all seemed to be having a great time making them. The same is true of Ocean's Eight. The leading ladies evince strong chemistry, work well together, and all get to have at least one scene in the spotlight. Sandra Bullock is the "lead" in the same way that George Clooney was the "lead" – she has slightly more screen time than her co-stars but not so much that things seem unbalanced. Anne Hathaway steals a scene or two, even when appearing alongside Bullock, Cate Blanchett, and/or Helena Bonham-Carter. The film has some amusing moments but isn't a comedy, which makes the lack of tension odd. James Corden shows up late in the proceedings as a Columbo-inspired investigator whose subplot fizzles out. Richard Armitage (arguably best known as Thorin from The Hobbit trilogy) does his best Hugh Jackman imitation as Debbie's slimy ex. And, although the biggest cameo is a no-show, there are some famous faces including Dakota Fanning, Marlo Thomas, Dana Ivey, Mary Louise Wilson, Elizabeth Ashley, and a long list of uncredited guests at the gala. (The IMDb cast lists Matt Damon but I didn't spot him – maybe he's hidden in plain sight during a crowd sequence.)
Ocean's Eight is in the same spirit as the other Ocean's movies but, although the style is similar and the cast contains as much talent, the screenplay is where this one sinks below the others. As a concept, making an all-female version of an Ocean's film is appealing. The final product, however, is waterlogged.
---
Ocean's Eight (United States, 2018)
---

Three...better movies of this genre
worse movies of this genre
Three...better movies of Sandra Bullock
worse movies of Sandra Bullock
Three...better movies of Richard Armitage
worse movies of Richard Armitage
(There are no more worst movies of Richard Armitage)
Three...better movies of Anne Hathaway
worse movies of Anne Hathaway