Duck Butter (United States, 2018)
April 27, 2018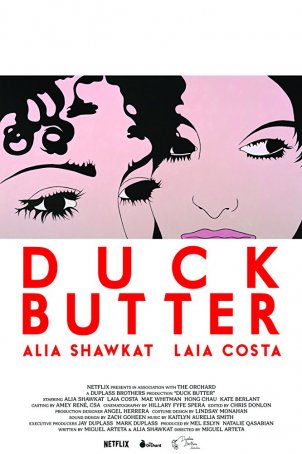 In recent years, there has been no shortage of American male-centered LGBTQ movies, with one (Moonlight) winning an Oscar. When it comes to lesbian stories, however, pickings have been slim. Although there have been international options (including the high-profile Blue is the Warmest Color), U.S.-produced films haven't kept up the pace. With middling success, Duck Butter seeks to redress this deficiency, although its low budget and limited distribution are likely to keep it far from the mainstream and available only to those who aggressively seek it out.
The film endeavors to take a serious look at relationships and all that comes with them. Most of what it has to say applies across the sexual spectrum from gay/lesbian connections to their heterosexual counterparts. By compressing everything into an overheated 24-hour period, Duck Butter is able to explore the highs and lows in extreme circumstances, where the importance of every moment and action is heightened.
There's not much of a narrative arc. Naima (Alia Shawkat), a struggling actress who has landed a role in a Duplass Brothers film (Jay and Mark have cameos, as does Kumail Nanjiani). One night at a club, she meets Sergio (Laia Costa) and their "meet cute" moment evolves into a trip back to Sergio's flat and a night of lovemaking. The next day, they embark on an experiment to test whether what they have is "real" or not: 24 hours together, learning about one another and exploring boundaries, having sex every hour. Needless to say, things don't go smoothly. Issues of honesty, intimacy, and commitment create barriers that the white-hot intensity of the initial encounter can't overcome by the cold light of day.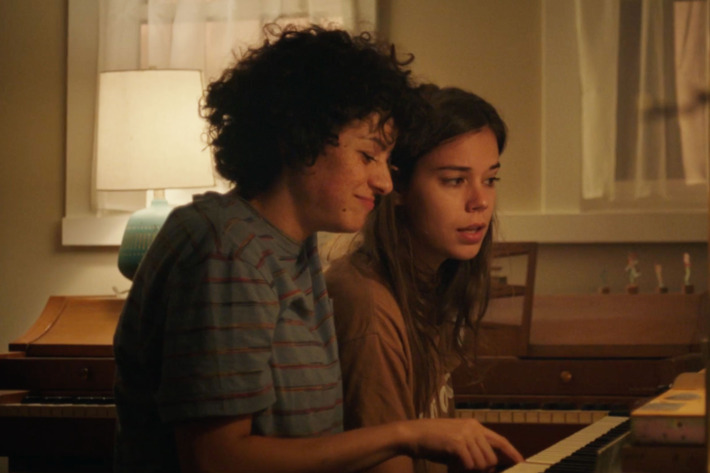 Director Miguel Arteta (who once upon a time gave Jennifer Aniston the chance to prove herself in The Good Girl) thumbs his nose at traditional stylistic choices and camera placement in pursuit of a cinema vérité approach. In part because of this and in part because of a meandering screenplay, Duck Butter has serious pacing problems. It starts out with a lot of energy but, as Naima and Sergio hunker down and pontificate about life, love, and their pasts, the proceedings start to drag. To a certain extent, Duck Butter gets by on the credible performances of the two leads and the surfeit of chemistry between them. But things often border on pretentiousness and the ending, while making a strong statement about the impermanence of relationships, is strangely distant and sterile.
The movie's sex scenes, of which there are several (as one might expect from an idea that demands sex once per hour over a 24-hour period), are unglamorous yet erotic, proving the importance of strong chemistry (over graphic content) in creating a hot scene. Duck Butter doesn't seek to outdo Blue is the Warmest Color, but the actors are no less committed and, considering Alia Shawkat's participation in the filmmaking process, it seems unlikely that the claims of borderline-abuse that dogged Abdellatif Kechiche will be repeated here. There's no "male gaze." The cinematographer is a woman (Hillary Spera) and Arteta works with her to avoid even a whiff of exploitation.
While it's tempting to give a nod of approval to Duck Butter because it fills an often-overlooked niche, the movie has too many problems to ignore. After the initial energy of the early getting-to-know-you scenes fades and the characters sink into their hourly routine, Duck Butter grows tiresome and the anti-climactic ending feels preordained. Acting and chemistry aren't enough and, as appealing as Shawkat and Laia Costa are, the material isn't strong enough to captivate for the full 90 minutes the way it does during the first 30. For lesbian viewers in search of a love story, however, Duck Butter offers something that is otherwise lacking in today's cinema.
---
Duck Butter (United States, 2018)
---
Three...better movies of this genre
worse movies of this genre
Three...better movies of Alia Shawkat
worse movies of Alia Shawkat
(There are no more worst movies of Alia Shawkat)
Three...better movies of Laia Costa
(There are no more better movies of Laia Costa)
worse movies of Laia Costa
(There are no more worst movies of Laia Costa)