Extraordinary Measures (United States, 2010)
January 21, 2010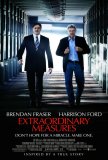 The question: If it looks, sounds, feels, and tastes like a Hallmark made-for-TV movie, why has Extraordinary Measures received a theatrical release? The answer: Harrison Ford. Ford doesn't do TV, or at least he hasn't since appearing in an episode of The Young Indiana Jones Chronicles some 17 years ago. The movie is a generally insipid feel-good production that's high on sentiment and manipulation but low on genuine drama and good acting. It opens with a caption informing us that it is "inspired" by true events. Translation: Some of the stuff in the movie kinda, sorta transpired in real life, but most of it is Hollywood fiction. Those who want to jump to the film's defense on the ground that the events contained herein happened would do well to research the historical record before making such a claim. My mantra, however, remains: Never let the facts get in the way of a good story. The problem is, this isn't a good story.
The film begins by introducing us to John Crowley (Brendan Fraser) and his wife, Aileen (Kerri Russell). They are the parents of three children; the youngest two are afflicted with Pompe disease, a rare genetic disorder that will eventually kill them. When his daughter nearly dies, John is galvanized to take action, quitting his lucrative job and going into business with researcher Dr. Robert Stonehill (Harrison Ford), who believes he is close to finding a cure - if only he can obtain the funding to proceed with his research. Getting the venture capital proves more difficult than either the good-hearted John or the curmudgeonly Robert expects, and both are forced to make compromises. Meanwhile, John's children are growing weaker and a doctor's prognosis gives them less than a year to live.
The material is as generic as one might expect. The emotional appeal is artificial; it's hard to feel much for any of these one-dimensional characters. The most intriguing aspects of Extraordinary Measures relate to the behind-the-scenes politicking that goes on to keep the drug development on track, although the screenplay cheats toward the end (presumably because of time constraints and a concern that too much detail might bore audiences). The interpersonal material is lifeless. I was reminded on more than one occasion of Robin Williams' Patch Adams. That's not generally considered to be a good association.
If there was a reason to see Extraordinary Measures, it would be for the cast, but the acting is uniformly disappointing. Harrison Ford, once the swashbuckling Indiana Jones, grumbles his way through the part. Clichés don't get any more obvious than the brilliant misanthrope who develops a conscience, and Ford does nothing to breathe life into his character. Meanwhile, Brendan Fraser, once a swashbuckling Indiana Jones knockoff, illustrates why he isn't given more of these serious, dramatic roles. They are not his forte, as his work in Extraordinary Measures demonstrates. His worst scene is probably the one in which he breaks down in his office after learning his children will not be part of the drug's clinical trial. The scene is so embarrassing it's almost funny. Finally, Kerri Russell meekly accepts the underdeveloped and underexposed part of the loving, supportive wife and mother. One wonders what she saw in Aileen when the script was presented to her for consideration.
The director, Tom Vaughan, has the kind of unimpressive resume that results in a lackluster assignment like this, and this is a step down from his previous outing, What Happens in Vegas. His unimaginative style lends itself to a project like this. The involvement of CBS Films (bankrolling their debut effort) serves to accentuate the impression that this movie was developed primarily for a television audience. There's nothing remotely theatrical about it, and it's hard to imagine why anyone would want to spend hard-earned money on a movie that might have trouble holding a viewer's attention on television, where the availability of the remote control makes it unlikely that Extraordinary Measures would be watched from beginning to end.
---
Extraordinary Measures (United States, 2010)
---
Three...better movies of this genre
worse movies of this genre
Three...better movies of Brendan Fraser
worse movies of Brendan Fraser
Three...better movies of Harrison Ford
worse movies of Harrison Ford
Three...better movies of Keri Russell
worse movies of Keri Russell