Fish Called Wanda, A (United States, 1988)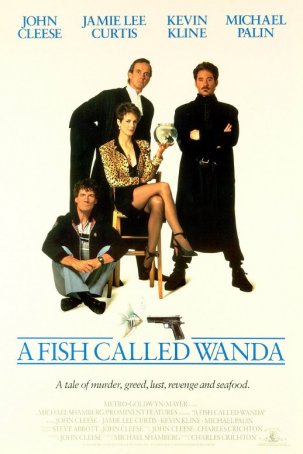 When it comes to comedians, everyone has their favorite. Mine is John Cleese. In fact, he has held that place in my esteem since the first time I watched an episode of Fawlty Towers on PBS, some twenty years ago. Up to that point, I knew Cleese as just another member of the Monty Python gang, but after spending 30 minutes with uptight hotel owner Basil Fawlty, I would never again think of the actor as a mere cog in a comic ensemble.
With one notable exception (Privates on Parade), I have never been disappointed by any of Cleese's performances, even when he's in something truly awful (such as Splitting Heirs or Erik the Viking). On those rare occasions when he has applied his talent to a straight role (as in Mary Shelly's Frankenstein), he has demonstrated range and versatility. Nevertheless, Cleese is at his best when he's being funny. When it comes to getting a laugh, few comic actors can match his manic energy or consistency.
Considering his solo outings (i.e., not the Python stuff), 1988's A Fish Called Wanda represents the high point of John Cleese's motion picture career. The film, which sprang from his pen and was directed by Charles Crichton, not only highlights Cleese's comic aptitude, but also that of co-stars Michael Palin, Jamie Lee Curtis, and Kevin Kline (who won a Best Supporting Actor Oscar for the part). The script contains enough hilarious moments to allow each member of the cast to have a chance to shine while the audience is kept in stitches.
The story centers around a quartet of jewelry store robbers. George (Tom Georgeson) is the ringleader, the man who has masterminded the theft. He is assisted by his stuttering, animal-loving friend, Ken (Michael Palin), and his girlfriend, Wanda (Jamie Lee Curtis). But Wanda wants the loot all to herself, and, to aid her in getting it away from George, she brings her psychotic, Nietzche-reading lover, Otto (Kevin Kline), into the gang. After the heist is successfully completed, Wanda and Otto place an anonymous call to the cops, and George is arrested. But, before he's hauled off to prison, he hides the jewels where Wanda and Otto can't find them.
In order to reduce his sentence if he's found guilty, George hints that he might be willing to turn over the location of the jewels to his barrister, Archie Leach (Cleese). As a result, the next step in Wanda's plan is to seduce Archie, a mild-mannered lawyer looking for a little romance and excitement. And Wanda, along with a jealous Otto, are on hand to do more than add just a little spice to Archie's existence. Soon, he's embroiled in the hilarious caper, and, as the situation grows progressively more convoluted, he learns that stolen jewels can make for very strange bedfellows.
I don't want to spoil the best parts of the movie for anyone who hasn't seen it, but, suffice it to say that A Fish Called Wanda contains some of the funniest scenes of any 1980s movie. One, which features Cleese in top panic-attack form, has Archie facing his wife (Maria Aitken) while his would-be mistress hides behind the couch. Another features Otto using his most memorable line, "Don't call me stupid", in unforgettable circumstances. Then there's Ken, who keeps trying to kill an old lady, but ends up picking off her canine pets instead.
Nothing is sacred to Cleese, who flouts every possible definition of political correctness by satirizing homosexuals, the British, the Americans, and stutterers. And, just to prove that he's got nothing to hide, Cleese does one of the most side-splitting stripteases ever to appear on screen. It's not erotic, but what happens immediately afterwards will have you doubled over with laughter.
Despite the non-stop zaniness, Cleese manages to fashion his screen personae into a likable hero. We quickly come to sympathize with Archie, an appealing loser who's finally getting a chance to break out of the constrictive shell that has held him back all his life. As Wanda, Jamie Lee Curtis exudes a playful sexiness. Kevin Kline creates a hilarious Otto, a self-styled "intellectual" who's so stupid that he thinks the London Underground is a political movement. Finally, there's ex- Python Michael Palin, who has lots of fun with his character's speech impediment.
A Fish Called Wanda is one of the best-constructed, funniest, and most clever comedies to grace motion picture screens in recent years. It's outrageous, offensive, and even a little sick -- and all the more enjoyable because of it. John Cleese has spent his entire career rejecting conventional comedy, and, on this occasion, there's no denying that he has hit paydirt.
---
Fish Called Wanda, A (United States, 1988)
Ranked #10 in Berardinelli's Top 100
---
Three...better movies of this genre
worse movies of this genre
Three...better movies of Kevin Kline
worse movies of Kevin Kline
Three...better movies of John Cleese
worse movies of John Cleese
Three...better movies of Michael Palin
worse movies of Michael Palin
(There are no more worst movies of Michael Palin)