Gandhi (UK/India, 1982)
October 22, 2019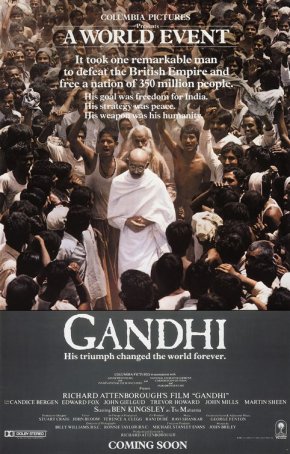 To a younger generation, Richard Attenborough may be best known for his portrayal of John Hammond in Jurassic Park and its firsts equel. And, although a majority of Attenborough's career was as an actor, he caught the directing bug in the 1960s and, between 1969 and 2007 (when he retired from show business), he was behind the camera for a dozen films of variable quality. He is best remembered for 1982's Gandhi, a magnificent epic worth of David Lean (who was at one point during the film's long-gestating development attached as director). The movie won Best Picture at the 1983 Oscars – one of its eight victories on the night. Two of those included Attenborough's lone Academy Award and Ben Kingsley's first (and, to date, his only) golden statuette.
With its mammoth 191-minute running length, Gandhi requires a commitment to watch. Although it has some pacing issues (particularly during the final 40 minutes), it is by no means an unrewarding experience. Attenborough, who had a fondness for biographies (he also made films about Winston Churchill, Charlie Chaplin, C.S. Lewis, and Ernest Hemingway), is in his element. Some historians have argued that Gandhi is too much of a hagiography but, even if the movie presents the title figure in a decidedly favorable light, it makes up for any factual inaccuracies with the depth and power of its characterization. Attenborough's direction in concert with John Briley's screenplay and Ben Kingsley's titanic performance creates one of the 20th centuries most recognizable cinematic avatars of a real-life person. Put this on the same level as George C. Scott's indelible Patton.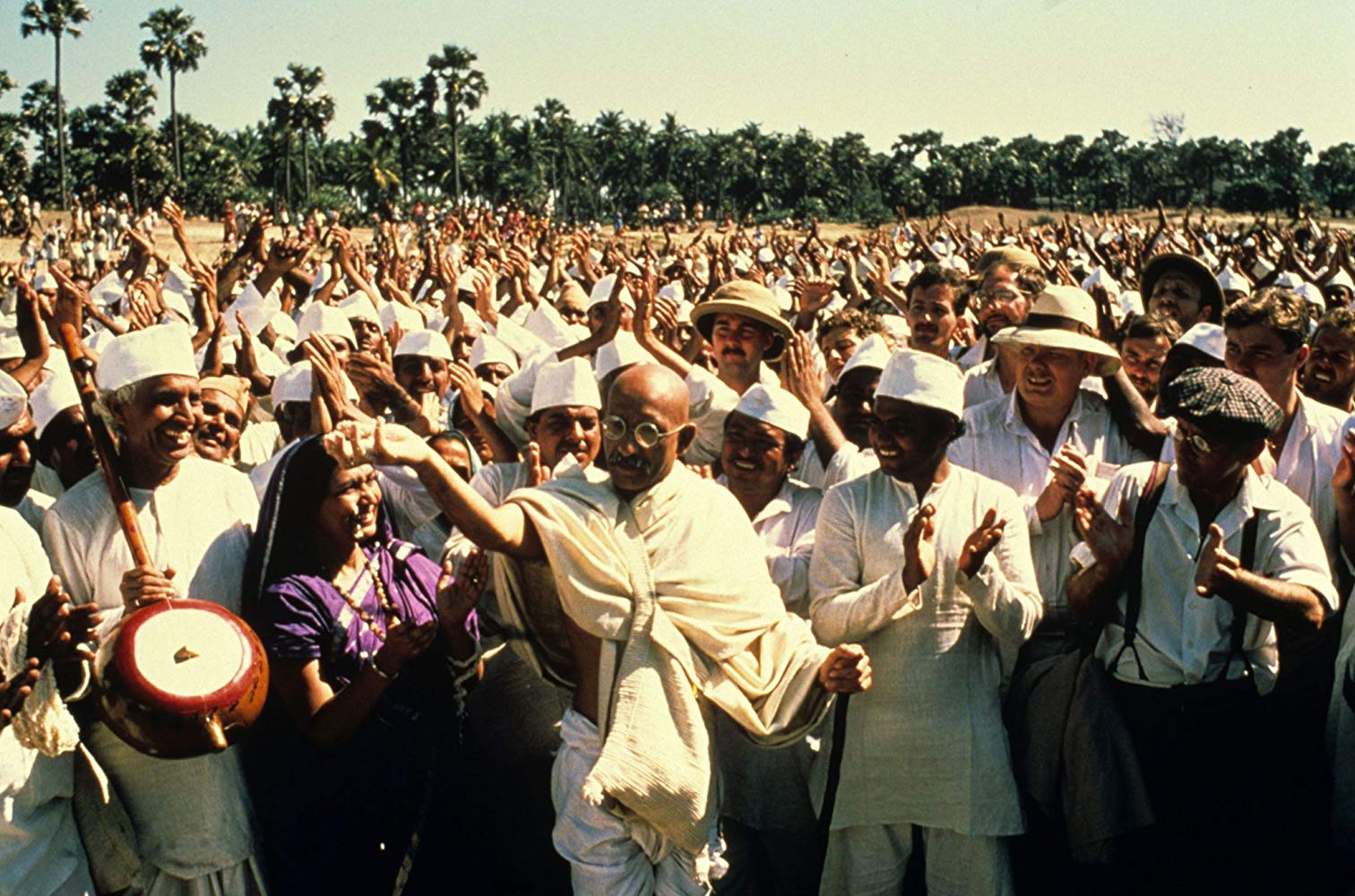 The majority of the film is presented in flashback. The first scene, which transpires on January 30, 1948, shows the assassination of an elderly Mahatma Gandhi (Ben Kingsley) after evening prayers. The canvas then seamlessly shifts in time and place – to 1893 South Africa, where the 23-year old Gandhi begins his lifetime of nonviolent protesting by campaigning for equal rights for Indians in the country. After meeting with success (although not before enduring multiple setbacks), he returns to his home country of India, where he joins the disparate ranks of those struggling for independence from the British Empire. Despite being a Hindu, Gandhi is more than willing to work with Muslims, Sikhs, Christians, and Jews. He continues his firm belief of achieving his aims without violence, saying at one point, "An eye for an eye only ends up making the whole world blind."
The struggle for India's independence, which Gandhi joins during World War I, is uneven and often unpleasant. Although Gandhi rejects violence, it is used often against the protesters, most notably in the 1919 Jallianwala Bagh massacre, when a British force opens fire against a mass of unarmed civilians, killing at lest 400 and injuring more than 1000. The commander of the troops, Brigadier-General Reginald Dyer (Edward Fox), defended his actions by claiming that his ruthlessness was necessary to preserve the Empire.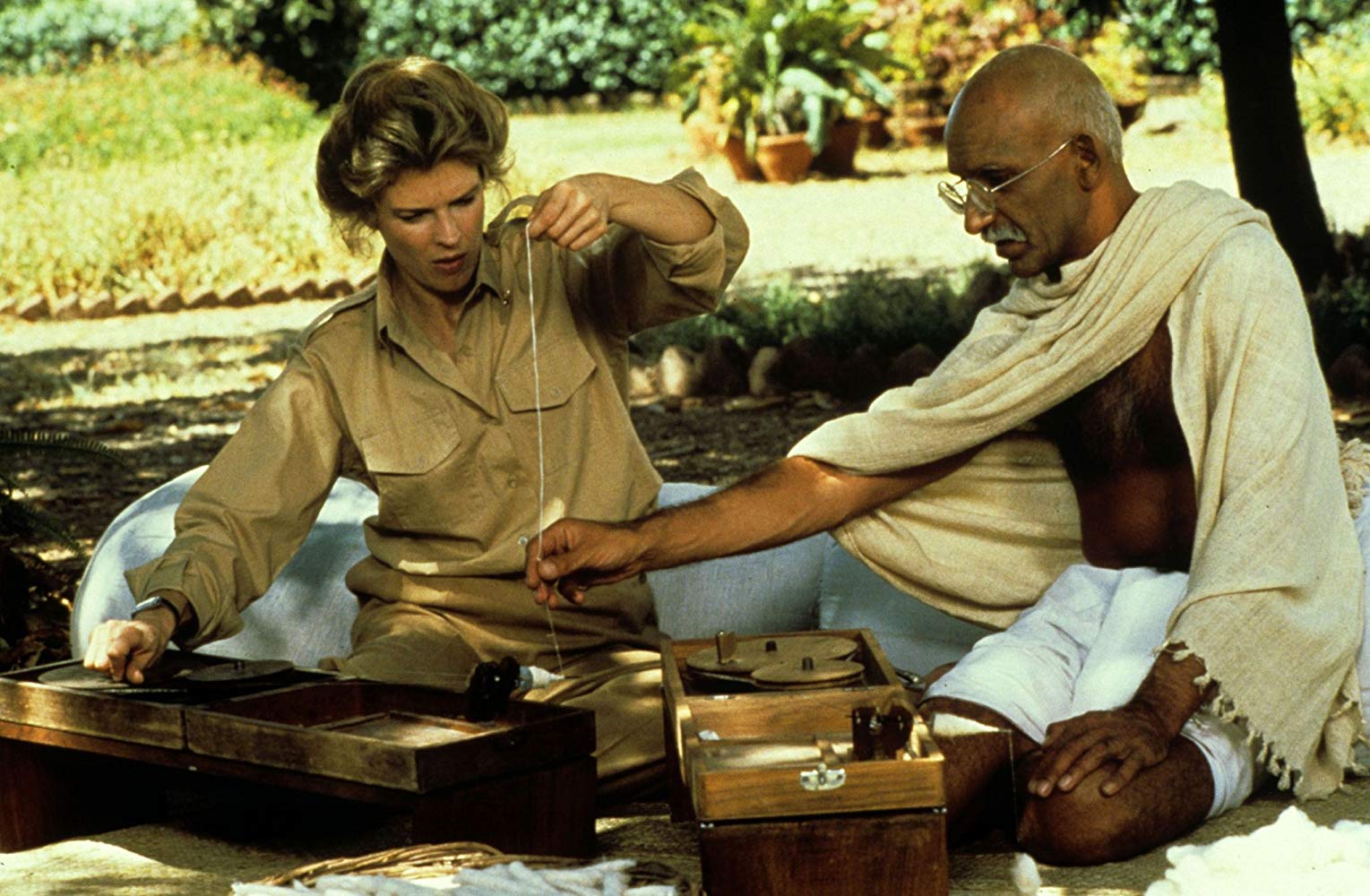 Between 1915 and the end of World War II, when Indian independence is granted, Gandhi achieves an almost legendary status among both the natives and the colonizers. He spends much time in prison but never complains. Achieving independence doesn't end his efforts. The country is split into two regions – India and Pakistan – based on religion. Gandhi opposes this but it occurs without his consent. Tensions between Muslims and Hindus result in widespread violence. This in turn leads Gandhi to start a hunger strike that he doesn't end until the clashes have abated. Not long thereafter, the movie reaches its conclusion where it begins – with his death at the hand of the assassin Nathuram Godse (Harsh Nayyar).
Gandhi represented a turning point in Ben Kingsley's career. Prior to winning the Academy Award, he was better known for his theater work (although he had also some film and television exposure). Attenborough cast him in part because he fit the mandate of an English-speaking actor of Indian descent. (Kingsley's birth-name was Krishna Pandit Bhanji.) The strength of his performance, which not only embodied the real-life character he was playing but was riveting in its own right, earned him universal plaudits and opened doors that would see him playing a variety of screen roles in years to come. He is now among the most respected and recognized Indian-British actors in the world.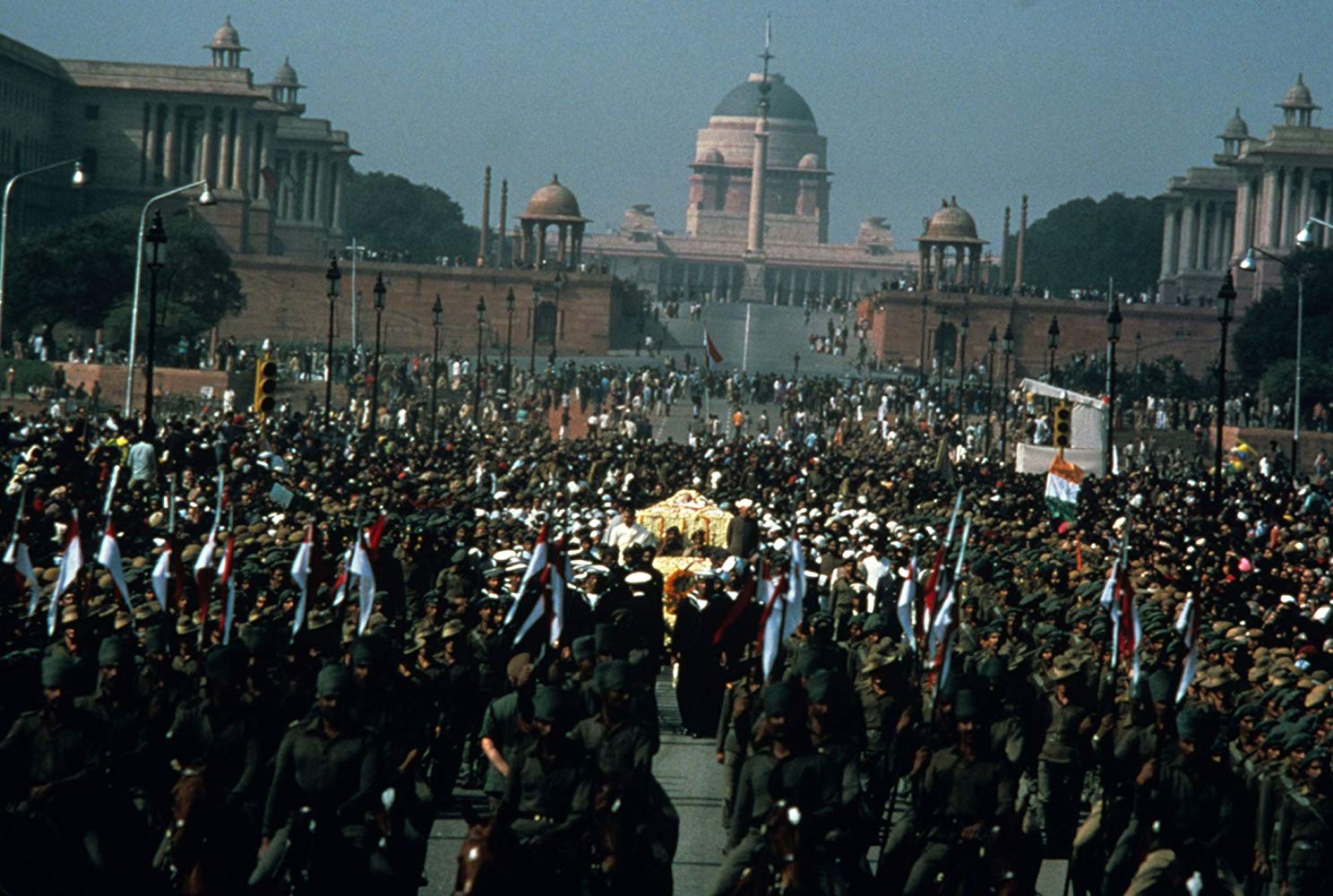 While Gandhi is unquestionably Kingsley's movie, he is supported by a diverse and impressive cast. Rohini Hattangady plays his long-suffering wife, Kasturba Gandhi. Roshan Seth is Jawaharlal Nehru, the first Prime Minister of India, and Alyque Padamsee is Muhammad Ali Jinnah, the first Governor-General of Pakistan. Other notable actors to have small roles or cameos in Gandhi include Candice Bergen, Edward Fox, John Gielgud, Trevor Howard, John Mills, Martin Sheen, Ian Charleson, Geraldine James, Richard Griffiths, Nigel Hawthorne, Michel Hordern, Om Puri, Bernard Hill, Daniel Day-Lewis, and John Ratzenberger. The quality of the cast is indicative of how well-regarded the production was in film circles.
Attenborough's approach to the material is epic is every sense of the word. The narrative spans more than half-century but doesn't have the condensed, "greatest hits" feel that undermines many biopics. Attenborough understands how to focus on key incidents then move on without making the narrative seem disjointed or discontinuous. The cinematography is lush without being too romantic. Ravi Shankar's score gives an authentic Indian flavor. (George Fenton, who would work with Attenborough in some of his post-Chaplin films, provided additional music and helped to arrange Shankar's contributions.)
Gandhi's Oscar victory represents one of those times in the Academy Awards' history when the winner stands the test of time. Three of its competitors – E.T., The Verdict, and Tootsie – remain enjoyable today but, if anything, Gandhi has improved with the passage of years. The story tells of an extraordinary man who not only inspired Martin Luther King and other civil rights leaders during the 1960s and 1970s but whose words resonate today: "Whenever I despair, I remember that the way of truth and love has always won. There may be tyrants and murderers, and for a time, they may seem invincible, but in the end, they always fail. Think of it: always."
---
Gandhi (UK/India, 1982)
Run Time: 3:11
U.S. Release Date: 1982-12-08
MPAA Rating:
"PG" (Violence)
Genre:
Drama
Subtitles: none
Theatrical Aspect Ratio: 2.35:1
---

Three...better movies of this genre
worse movies of this genre
Three...better movies of Ben Kingsley
worse movies of Ben Kingsley
Three...better movies of Rohini Hattangady
(There are no more better movies of Rohini Hattangady)
worse movies of Rohini Hattangady
(There are no more worst movies of Rohini Hattangady)
Three...better movies of Roshan Seth
(There are no more better movies of Roshan Seth)
worse movies of Roshan Seth
(There are no more worst movies of Roshan Seth)