Tootsie (United States, 1982)
March 19, 2009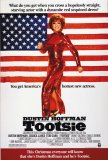 Tootsie works for three reasons: a sharp screenplay, good comic timing, and delightful performances. There's nothing deep or philosophical about the film. It doesn't try to solve the world's problems or uncover some great social truth. It's a genial romantic comedy that spends the majority of its time developing the characters and their relationships while lampooning soap operas and making a muted statement about the every-growing role of women in the workplace. The Academy recognized many of Tootsie's qualities but, despite a boatload of nominations, it came away with one lone statuette: Best Supporting Actress.
Michael Dorsey (Dustin Hoffman) is a New York-based actor working in a city where unemployment for those in his profession is 95%. His agent (Sydney Pollack) contends that, because of Michael's contentious reputation, he can't even get a TV commercial. Needing $8000 to finance a play written by his roommate, Jeff (Bill Murray), for which his girlfriend, Sandy (Teri Garr), is the intended star, Michael takes a drastic step and auditions for a soap opera - as a woman. Thus is born Michael's female alter-ego, Dorothy Michaels. She's an immediate hit with the show's producers and is hired over the objections of the chauvinistic director, Ron Carlisle (Dabney Coleman). She strikes up a close friendship with fellow actress Julie Nichols (Jessica Lange) and becomes the romantic object of both the soap's biggest acting name, John Van Horn (George Gaynes), and Julie's sensitive father, Les (Charles Durning). Soon, Michael is on his way to making the $8000, but Dorothy is a national sensation and Michael feels she is taking over his life.
One of the most amazing things about Tootsie is how Michael and Dorothy seem like different characters, rather than different physical manifestations of the same person. It is, in fact, hard to reconcile the fact that one man is playing both roles, which makes everyone's reactions - especially Julie's - credible when the final "reveal" occurs. This is a testimony to the effectiveness of Dustin Hoffman's performance. When portraying Dorothy, it's not just an instance of a man in drag - it's a man playing a man playing a woman, which adds another layer to things. As Dorothy, Hoffman gets his share of laughs, which is what one would expect from a comedy, but there are also some touching moments. Other actors have followed Hoffman's lead in similar gender-bending parts (such as Robin Williams in Mrs. Doubtfire), but none have created a secondary identity this believable. As good as Hoffman is, however, the unsung heroes here may be the makeup artists, who were not nominated for Oscars. Their involvement is invaluable in facilitating the Michael-to-Dorothy transformation. She is homely but feminine; she's not a pretty woman, but there's no sense she's a man.
Perhaps even more remarkable than Hoffman's performance is the one turned in by Jessica Lange as the sweet, insecure Julie. For Lange, 1982 represented a watershed year. After beginning her career with a widely-panned turn in Dino De Laurentiis' King Kong remake, she remained in obscurity until 1979 when she appeared in All that Jazz. Then came 1982 and her double nomination. For her work in Frances, Lange lost to Meryl Streep (Sophie's Choice) in the Best Actress category, but she won as Best Supporting Actress for Tootsie. The unforced charisma that won her the part in King Kong is present in Tootsie, but in the intervening six years, Lange honed her craft and was able to present a likeable, vulnerable girl-next-door type who meshes perfectly with Hoffman. It's hard to say whether there's much chemistry between Lange and Hoffman/Michael, since they share only a few scenes, but there's no shortage of it between Lange and Hoffman/Dorothy.
Tootsie came into being when soap operas were at the peak of their popularity, and none was more rabidly viewed than General Hospital, which had become a hit on college campuses. As a nod to the program, scenes in the film's fake "daytime drama" were set in a hospital. Tootsie pokes gentle fun at soaps, incorporating melodramatic plot twists, ripe dialogue, and the sort of general cheesiness associated with this kind of programming. There's even a genuine General Hospital alumnus in the cast. George Gaynes spent more than a year on the program as the villainous Frank Smith (between 1979 and 1980) and was in fact the catalyst for the infamous "Luke and Laura on the run" storyline that propelled the show to the top of the daytime charts. Tootsie understands soaps and has no trouble lampooning them, although it's done kindly (possibly to avoid alienating potential viewers who might be turned off by a more caustic tone).
At its heart, Tootsie is a romantic comedy, although the barriers between Michael and Julie, created by his masquerade, are not of the conventional type. Nevertheless, the thrust of the story is to put these two together and watch how things develop. He falls for her but can't show it because he's Dorothy. And she feels something for him, but doesn't know how to express it because she's not a lesbian. Tootsie is surprisingly sensitive about homosexual issues, showing more restraint than was evident in cross-dressing comedies during the '90s and '00s. This display of good taste allowed the movie to achieve a PG rating.
One subtext relates to the growing number of women in the workforce. Although today this is largely a non-issue, it was a subject matter for discussion and argument during the '70s and '80s, when there existed, in some corners, a degree of resentment toward women for "taking work away from men." There's a little of that in Tootsie, with Michael having to turn himself into a woman to get a job and with the sexist attitudes of many of the men Dorothy interacts with. She's a feminist avenger - never mind the fact that she's a man. Because of the way things have changed in the workplace over the past 25 years, this theme feels less organic today than in 1982. (Similar comments can be made about Working Girl, which approached the subject less obliquely.)
The relative simplicity of the screenplay and the witty intelligence of the dialogue have allowed Tootsie to stand the test of time. Little in the film feels dated and it's as fresh and appealing today as when it was first released. Director Sydney Pollack made many memorable films during a career that spanned 40 years, and he moved freely across all genres. Tootsie represents his best comedy and one of his two or three top films overall. It remains a treasure.
---
Tootsie (United States, 1982)
---
Three...better movies of this genre
worse movies of this genre
Three...better movies of Dustin Hoffman
worse movies of Dustin Hoffman
Three...better movies of Jessica Lange
worse movies of Jessica Lange
(There are no more worst movies of Jessica Lange)
Three...better movies of Teri Garr
(There are no more better movies of Teri Garr)
worse movies of Teri Garr
(There are no more worst movies of Teri Garr)