Marlowe (Ireland/USA, 2022)
February 15, 2023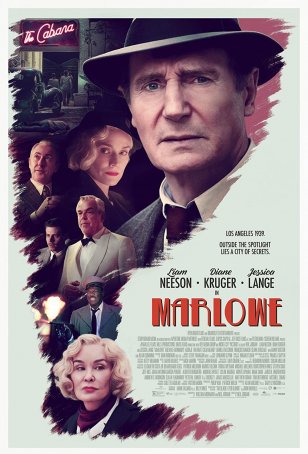 I have never been a Raymond Chandler fan nor am I enamored with the pulp detective genre that was oh-so-popular during the early decades of the 20th century. Consequently, my only exposure to Philip Marlowe (Chandler's most popular character) has been through the movies and on TV. Over the years, he has been played by a number of well-known actors, including (but not limited to) George Sanders, Robert Montgomery, Elliot Gould, Powers Booth, Robert Mitchum, and (of course) Humphrey Bogart. In my review of The Big Sleep, I wrote the following: "Of all of these portrayals, Bogart's is easily the most memorable, and if you ask any movie-lover who the real cinematic Marlowe is, the answer will be immediate and unqualified." Now Liam Neeson has joined this roster and, although his interpretation of the beleaguered detective falls far short of Bogart's, it's arguably as good as any of the others.
Marlowe is based on the 2014 novel "The Black-Eyed Blonde" by John Banville, an authorized post-Chandler Marlowe tale. Although Marlowe's dialogue doesn't snap, crackle, and pop the way it does in many of the earlier works, the storyline has all the expected twists and red herrings. Director Neil Jordan, whose most notable works (Mona Lisa, The Crying Game, Michael Collins) are more than 20 years in the past, takes a director-for-hire position and turns in a workmanlike job. The film's look, said to be inspired by Blade Runner, is garish and sumptuous but there's a sense that the movie might have benefitted from a black-and-white aesthetic. The full-color approach clashes with the film noir tropes, creating an odd dissonance.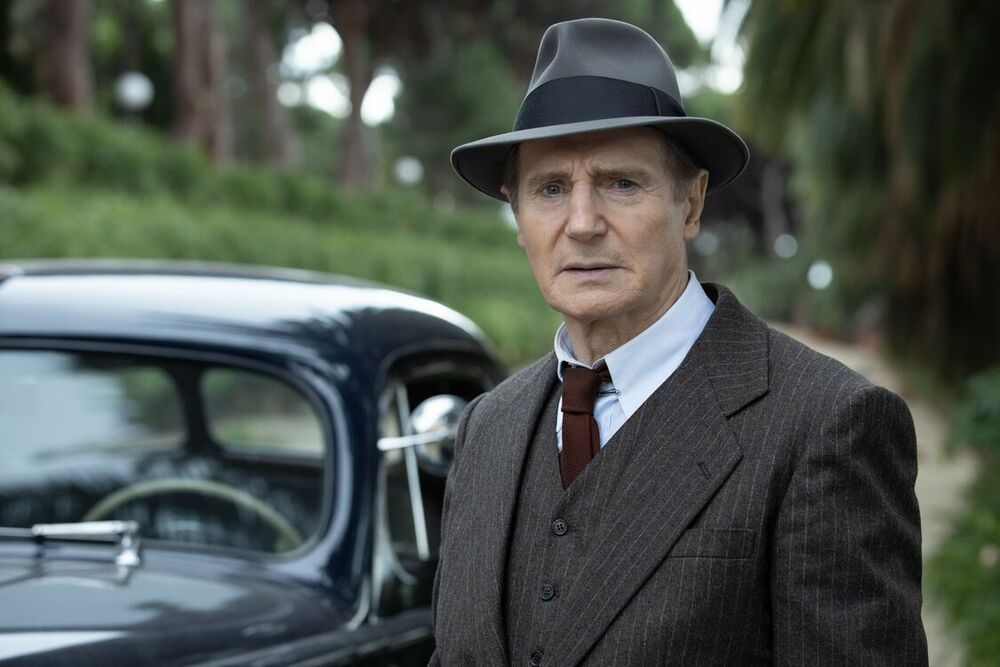 If there's a source of disappointment, it's that the story doesn't offer many surprises and the ending feels flat. The true climax occurs about 25 minutes before the movie is over, resulting in an overlong denouement. The movie transpires in 1939 Bay City (Los Angeles), where a wealthy heiress, Clare Cavendish (Diane Kruger), hires PI Philip Marlowe (Neeson) to discover the whereabouts of her ex-lover, Nico Peterson (Francois Arnaud). What initially seems to be an open-and-shut case ending with a fatal hit-and-run turns into something more complex when shady heavy-hitters like Lou Hendricks (Alan Cumming) and Floyd Hanson (Danny Huston) come crawling out of the sewers (having something to do with cross-border drug running). Not to be left out, Clare's mother, Golden Age star Dorothy Cavendish (Jessica Lange), insinuates herself into the investigation.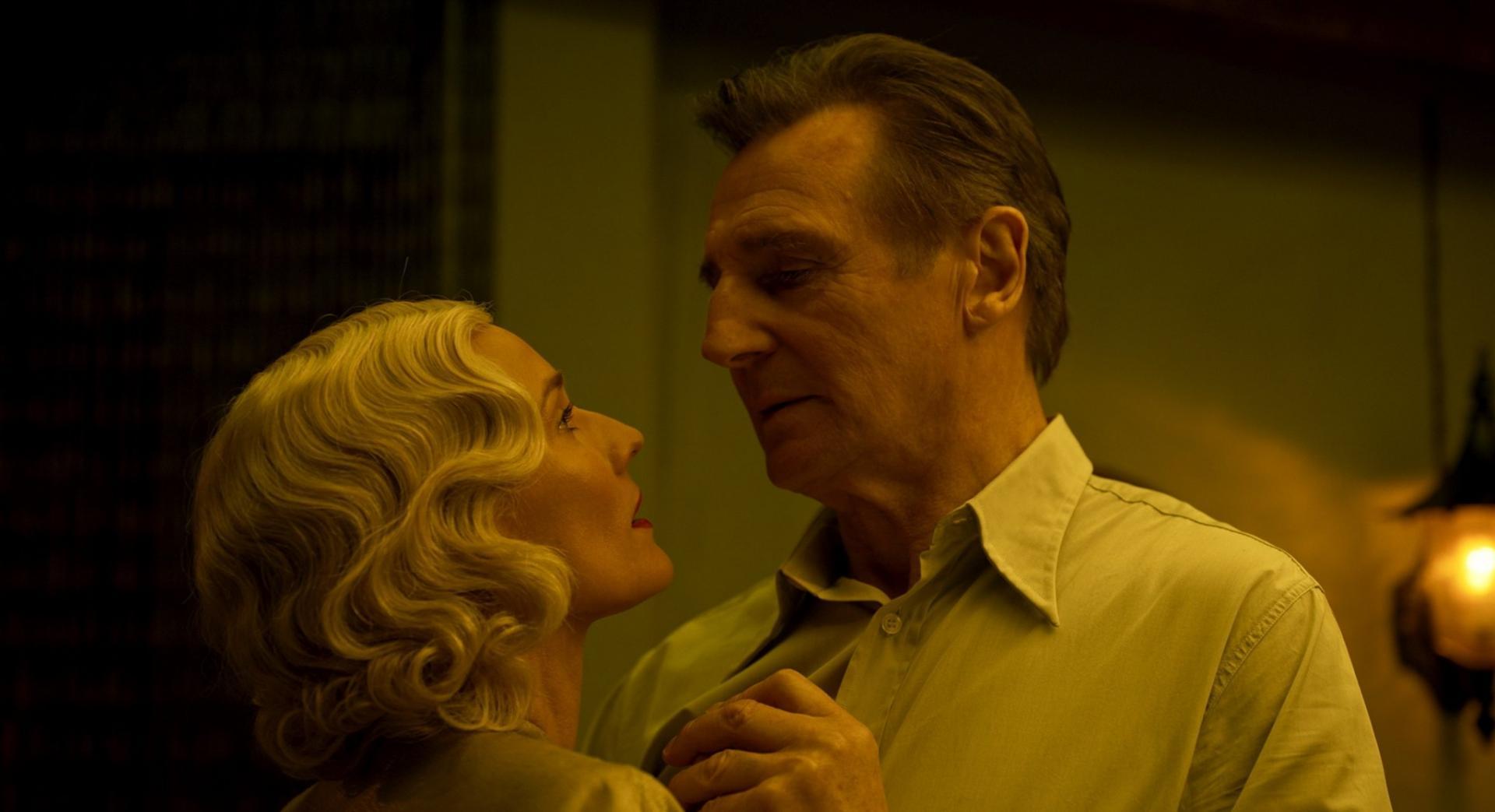 Neeson is playing a more cynical, world-weary version of his Taken persona, meaning that he gets his share of action scenes (mainly fights and gunplay). Marlowe is neither as ruthless nor as laser-focused as Bryan Mills and it's unclear how many people he actually kills (as opposed to maiming). There's one amusing bit of fourth-wall breaking that adapts Danny Glover's most famous line: "I'm getting to old for this sort of thing." The filmmakers have surrounded Neeson with an impressive cast that includes Jessica Lange (throwing out one-liners with relish), Diane Kruger (not entirely comfortable as a femme fatale), Danny Huston (oily as ever), Adewale Akinnouoye-Agbaje as Cedric the chauffeur (the scene-stealing supporting performer), Alan Cumming, and Colm Meaney. One can argue that the quality of the acting elevates the production by at least a half-star.
Marlowe has been kicking around for some 85 years (he first appeared in print in "The Big Sleep," which was published in 1939), so it's fair to wonder whether any new movie can fulfill the double mandate of remaining true to the clichés of the genre while providing something original and engaging. Marlowe does a considerably better job of the former than the latter. As a theatrical release, one suspects that this movie will be D.O.A., despite Neeson's involvement. It may find better traction as a streaming option (assuming it's picked up by a major service rather than being offered a la carte). The movie doesn't exactly do Philip Marlowe a disservice but neither does it successfully re-invent the character for a new era and its attendant audience.
---
Marlowe (Ireland/USA, 2022)
---
Three...better movies of this genre
worse movies of this genre
Three...better movies of Liam Neeson
worse movies of Liam Neeson
Three...better movies of Diane Kruger
worse movies of Diane Kruger
Three...better movies of Jessica Lange
worse movies of Jessica Lange
(There are no more worst movies of Jessica Lange)