Ghosts of Girlfriends Past (United States, 2009)
April 29, 2009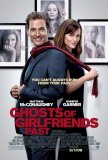 What happens when Hollywood marries Charles Dickens, that wacky 19th century romantic comedy scribe, to Matthew McConaughey, that wacky naked bongo drum player? To begin with, great expectations should be curbed. The result is not as good as it should be... but neither is it as bad as it could have been. The idea behind Ghosts of Girlfriends Past is at least intriguing: take a standard-order romantic comedy and overlay it with a popular classic (something that happens with Shakespeare on a regular basis). The Dickens elements elevate Ghosts of Girlfriends Past above the level of pure formula; unfortunately, the presence of McConaughey in full sleaze mode makes it difficult to like this film's Scrooge, even after his redemption occurs.
It's not Christmas and "Scrooge" is named Connor Mead (last name presumably named after ye olde alcoholic beverage). Connor is the ultimate love-'em-and-leave-'em ladies' man. He is as indiscriminate as they come, having sex with anyone possessing a vagina, but he never stays for a moment longer than is necessary. No cuddling and especially no spooning ("forking is so much more enjoyable"). Despite having an almost evangelical opposition to marriage, Connor has shown up for the nuptials of his younger brother, Paul (Breckin Meyer), who is about to be married to Bridezilla Sandra (Lacey Chabert). Also a member of the wedding party is a face from Connor's past: his One True Love, Jenny (Jennifer Garner). Of course, Connor has long since repressed his feelings for Jenny and the two of them spend their time together lobbing insults at one another. But Connor is in for a rude awakening. On the night before the wedding, he is visited by four ghosts. First comes Uncle Wayne (Michael Douglas), Connor's former partner in womanizing, who arrives to prepare his nephew for what is to come. The next visitor is the Ghost of Girlfriends Past (Emma Stone), who takes Connor on a nostalgic trip down Memory Lane. Then there's the Ghost of Girlfriends Present (Noureen DeWulf), who lets Connor know that all is not as it seems. Finally, there's the mute Ghost of Girlfriends Future (Olga Maliouk), who does a lot of pointing and shows Connor some ugly things, like his tombstone and Jenny married to another guy.
Ghosts of Girlfriends Past doesn't break new ground, but it at least adds a little flavor to the stale staple of old flames reconnecting when one realizes his/her true feelings for the other. The screenplay, with apologies (one would hope) to Dickens, and credited to the duo of Jon Lucas and Scott Moore, includes enough sharp lines to keep it from becoming too sentimental. The Ghost of Girlfriends Past glibly breaks the fourth wall when introducing a montage set to "Time After Time." Both Anne Archer and Michael Douglas have dialogue to savor. And the movie delights in making a direct reference to "A Christmas Carol" after Connor awakens from his night of ghostly visitations.
The problem is McConaughey, who is about as romantic as Alistair Sim. For some reason, the actor has gained the reputation of being an effective rom-com leading man, but he often seems more creepy than charismatic. He's fine playing nasty Scrooge, but the scenes in which he romances Jennifer Garner aren't endearing. McConaughey doesn't pull off Connor's transformation; the film's climax feels perfunctory and unconvincing. On an intellectual level, because we have seen these kinds of movies many times before, we understand that we're supposed to be rooting for Connor and Jenny to have their "happily ever after" moment, but McConaughey spoils it. About the only thing that can be said in favor of the pairing is that Jennifer Garner evidences more personality than Kate Hudson (McConaughey's best-known rom-com partner), so their scenes aren't complete emotional voids.
Ghosts of Girlfriends Past is being used as counterprogramming for the testosterone-heavy Wolverine, and it will doubtless find favor with its target audience (at least those who aren't put off by the lead actor, who splits female viewers down the middle in terms of his appeal). The script is smarter and better focused than that of last year's early summer romantic comedy, Made of Honor, but it nevertheless lacks the kind of forceful, attention-grabbing chemistry that elevates a movie in this genre from a passable diversion to a lasting source of entertainment. As for the Dickens element, the film lacks the kinds of in-jokes that would make this a rewarding experience. It borrows the skeleton from "A Christmas Carol," but the rest is an invention of director Mark Waters and his screenwriters, and the meat on the bones doesn't satisfy as it should. Hard times for romantic comedy lovers, indeed.
---
Ghosts of Girlfriends Past (United States, 2009)
---
Three...better movies of this genre
worse movies of this genre
Three...better movies of Matthew McConaughey
worse movies of Matthew McConaughey
Three...better movies of Noureen DeWulf
(There are no more better movies of Noureen DeWulf)
worse movies of Noureen DeWulf
(There are no more worst movies of Noureen DeWulf)
Three...better movies of Emma Stone
worse movies of Emma Stone