Movies starring Lacey Chabert Dirty Deeds
Dirty Deeds boasts a passably entertaining idea that is butchered in the telling. The underlying premise offers the opportunity for some Animal House/American Pie/Revenge of the Nerds-style entertainment, but the unfunny screenplay and inadequate ...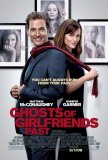 Ghosts of Girlfriends Past
What happens when Hollywood marries Charles Dickens, that wacky 19th century romantic comedy scribe, to Matthew McConaughey, that wacky naked bongo drum player? To begin with, great expectations should be curbed. The result is not as good as it sho... Lost in Space
Lost in Space is New Line Cinema's bid to enter the space franchise race. Undoubtedly impressed by the long-term, consistent profitability of Paramount's Star Trek movies (the ninth of which will be released this year), New Line has decided to res... Mean Girls
Although Mean Girls is likely to be frequently compared to Heathers, and perhaps occasionally to Election, the movie it most strongly reminds me of is 1999's Jawbreaker. All four of these films offer a darkly satirical perspective of high school a...