Pirates! Band of Misfits, The (United Kingdom/United States, 2012)
April 23, 2012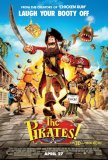 Any movie emerging from Aardman Animation Studios comes with a set of expectations, the majority of which are satisfied The Pirates! Band of Misfits, an affectionate parody of the pirate genre. Suffused with satire, wit, and the dry, tongue-in-cheek flavor of comedy one rarely finds in American productions, this stop-motion animated excursion pokes fun at pirate conventions while representing icons Queen Victoria and Charles Darwin as a bitch and a twit, respectively. It's all in good fun, of course, but it takes a certain degree of brazenness to transform a pair of respected historical figures into villains while making those who terrorize the high seas into loveable rogues. Not even Pirates of the Caribbean went quite that far.
Pirating, like any other vocation, has its luminaries, and The Pirate Captain (voice of Hugh Grant) isn't among them. He likes to think of himself as a scourge of the ocean, but his crew is comprised of halfwits and his choice of targets leaves something to be desired. Plague ships and ghost ships don't carry a lot of gold. But The Pirate Captain is well-liked by his men, if only for a tradition aboard ship called "Hamnight." For the 20th consecutive year, The Pirate Captain has applied for the Pirate of the Year award, but his competition is stiff: Black Bellamy (Jeremy Piven), Cutlass Liz (Salma Hayek), and Peg Leg Hastings (Lenny Henry). To beat those three, The Pirate Captain has to do something spectacular. That's when he meets Charles Darwin (David Tennant) and his fortunes seem to change, although perhaps not in ways that will impress The Pirate King (Brian Blessed).
The story is feather-light but has sufficient form to introduce the characters and establish their conflicts. It's more of a comedy than an adventure, but there are several action scenes of a familiar structure to those typically found in animated family features. The humor comes in two flavors: broad comedy designed to appeal as much to children as to adults, and a more sly variety, often in the dialogue, that is accessible primarily to older viewers. Most successful animated films can boast this quality. The Pirates!, like previous Aardman productions, is not just for kids.
The usage of high quality stop-motion techniques gives The Pirates! a sufficiently different look and feel from most current animated films that it seems almost revolutionary. While there's nothing new about Aardman employing stop-motion (they are the claymation kings), this is their first 3-D stop-motion outing. (Arthur Christmas was 3-D but it was computer animated, not stop-motion.) Perhaps surprisingly, it can be said that the 3-D adds more than it detracts. 3-D seems especially well-suited to stop-motion animation and it gives the images real "pop." The technique never seems showy or gimmicky in this context and the only noticeable detraction is the diminution of brightness. The Pirates! is by no means murky or dim but neither is it dazzling. The movie could almost certainly be seen in 2-D without a loss in overall entertainment value - nothing in The Pirates! demands 3-D - but it could be successfully argued that there is extra value for those who chose to pay the surcharge.
The casting benefits from the relative anonymity of the voices. Hugh Grant is not an obscure figure and, although it's possible to recognize his dulcet tones, no disconnect is created between the real-life actor and his animated avatar (which, indeed, looks nothing like Grant). Similar comments can be made about Martin Freeman (as The Pirate Captain's second-in-command), David Tennant, Imelda Staunton, and Jeremy Piven. Even Doctor Who fans are unlikely to be distracted by Tennant, who sounds nothing like he did while in the TARDIS. Only Salma Hayek and Brian Blessed are immediately recognizable but neither has more than a handful of lines. The Pirates! boasts no stunt casting; the actors were chosen based on their ability to fill their parts and they accomplish what is expected of them.
The Pirates!, which is the first directorial effort from Aardman co-creator Peter Lord since Chicken Run, is fun and lightweight, offering an enjoyable 90 minutes, but not making a run at true animated greatness. There's ample evidence of creativity but the film falls short of some of the studio's best past work as well as 2011's similarly pitched Western parody, Rango. Maybe part of the problem is the fourth Pirates of the Caribbean, which stumbled so deeply into the realm of self-parody that it narrowed the territory available to a more intentionally comedic production like The Pirates! Nevertheless, seen from almost any vantage point, this is the most enjoyable pirate movie since the first of Gore Verbinski's live-action tales featuring Cap'n Jack Sparrow.
---
Pirates! Band of Misfits, The (United Kingdom/United States, 2012)
---
Three...better movies of this genre
worse movies of this genre
Three...better movies of (voices) Hugh Grant
(There are no more better movies of (voices) Hugh Grant)
worse movies of (voices) Hugh Grant
(There are no more worst movies of (voices) Hugh Grant)
Three...better movies of David Tennant
(There are no more better movies of David Tennant)
worse movies of David Tennant
Three...better movies of Martin Freeman
worse movies of Martin Freeman