Rio (United States, 2011)
April 12, 2011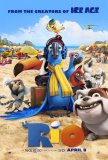 When one distills Rio to its essentials, it's all about a bird traveling several thousand miles for the express purpose of getting laid. However, since such a reduction of the plot would not go over well with the parents planning to send (or accompany) their offspring to this movie, the way in which the tale is presented is significantly less salacious. In fact, it's downright Puritanical (although we learn that birds can kiss). Rio is a stopgap - a second-rate animated film scheduled to provide a "family viewing" option between the early spring offerings and the big guns of May and June. The only thing surprising about this lackluster animated production is that it attracted an A-list voice cast. But that's how things are today when even mediocre animation can be a big draw.
There's not much of a story; the 91-minute narrative is essentially a road trip that doubles as an animated post card to Rio de Janeiro. There are frequent action sequences that kids may find entertaining but which may threaten to put adults to sleep. Those who found the humor in Rango to be too "adult" will be pleased to learn that Rio's comedic elements are pitched at those in the 5-8 year old range. It's unlikely anyone older will find much to laugh at. The movie has a slapdash feel, as if it was cobbled together to take advantage of the 3-D surcharge boom. When it comes to high profile animation, Fox has always been a distant third to Pixar and Dreamworks, and this effort will do little to close the gap. (Fox's "big" animated franchise is Ice Age; Rio's director, Carlos Saldanha, directed or co-directed all three installments of that series, providing him with clout.)
Blu (voice of Jesse Eisenberg) is a domesticated blue macaw, a rare breed of bird that hails from the jungles of South America. Captured just out of the nest and transported to the United States, he has been living a life of bliss with his owner, Linda (Leslie Mann). One day, a conservationist named Tulio (Rodrigo Santoro) seeks out Linda with a proposition. He has discovered the last female blue macaw; if Linda will bring Blu to Rio, the birds can mate and re-start the species. Blu's initial encounter with his bride-to-be, Jewel (Anne Hathaway), doesn't go well, but the two aren't given much time to get to know one other before a gang of bird-nappers spirits them away. Now it's up to Blu and Jewel to escape the clutches of the dastardly criminals and, with the help of a few feathered and furred friends, make their way back to Linda and Tulio before they are sold off as prize specimens.
Visually, the movie is adequate but not spectacular, and the inevitable dimness resulting from the 3-D glasses reduces the effectiveness of the movie's vivid color palette. With the glasses removed, it's a bright, variegated landscape. With them on, there are a lot of muted hues. The character renderings are unspectacular and the backgrounds, despite often being photorealistic, lack depth (admittedly, an odd thing to say about a 3-D movie). There are times when the film feels like a cartoon travelogue of the title city - something that may be unique in the history of Hollywood animation. Director Saldanha was born in Rio, so this is his love letter to city of his birth. Rio's opening, an apparent homage to the beginning of The Lion King, does little beyond providing evidence that old-fashioned, 2-D hand-drawn animation can at times provide a more complete, compelling experience than new-fangled, 3-D computer-generated animation.
Of the actors, the only one whose vocal performance provides instant identification is George Lopez. Everyone else, including Anne Hathaway, either has an anonymous quality to their voice work or is able to do some camouflaging. Jesse Eisenberg's tones are unique but he is not well enough known for that to be a distraction. Other participants include musician will.i.am (who chooses to use his stage name rather than his given name), Jamie Foxx, and Jermaine Clement as the villainous Nigel. Although Rio mixes and matches human characters with talking animals (although the people can't understand the language of the beasts), the majority of the speaking parts go to feathered or four-legged creatures.
Rio is not a family film; it's a children's film. As such, it fulfills its goals, although parents who elect to watch the movie with their kids (rather than dropping them off) will find the experience less than invigorating. Everything - the story, the humor, the action, and the heavy-handed conservation message - is pitched at a grade school level, and little attempt is made to develop a secondary, more mature flavor to events (one that goes over the head of kids but is easily absorbed by older viewers). This is the difference between good animation and indifferent, disposable fluff, and Rio lands squarely in the latter category.
---
Rio (United States, 2011)
---
Three...better movies of this genre
worse movies of this genre
Three...better movies of (voices) Jesse Eisenberg
(There are no more better movies of (voices) Jesse Eisenberg)
worse movies of (voices) Jesse Eisenberg
(There are no more worst movies of (voices) Jesse Eisenberg)
Three...better movies of Anne Hathaway
worse movies of Anne Hathaway
Three...better movies of Leslie Mann
worse movies of Leslie Mann