This is 40 (United States, 2012)
December 20, 2012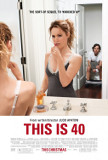 This is 40 has the feel of one of those French "family comedies" - sort of like the kind of thing brought to the screen by Cedric Klapisch, except with more profanity and vulgarity. There's not much in the way of a conventional narrative. This is 40 is essentially a window into the life of an upper middle-class American family over the course of a two-week period. Not much happens as we become privy to the ups and downs of the "married with two children" setup. There's a lot of truth in what writer/director Judd Apatow puts on screen (much of which is undoubtedly drawn from his own life and marriage) but, like many French films of this genre, it runs too long. As engaging as the characters are, 135 minutes is too much time to spend in their company. The movie starts losing steam around the 90 minute point and doesn't make it to the finish line on a high note.
This is 40 is being touted as a "sort-of sequel" to Knocked Up. Although the two movies share some of the same characters - Debbie (Leslie Mann), the "sister" in Knocked Up, and Pete (Paul Rudd) have been elevated from secondary players to the leads - This is 40 stands on its own. There's no need to have seen the earlier movie to appreciate this one. A few other minor Knocked Up characters make appearances, but the principals from the earlier film are noticeably absent. (One wouldn't have expected an appearance by Katherine Heigl in view of her public comments about Knocked Up and it might be odd for Seth Rogen to have a cameo without her.)
Apatow does a good job of charting the uncertain waters of marriage - the tears, the arguments, the moments of clandestine sex interrupted by children, and the love and affection that are often masked by more immediate frustrations. He speaks from experience. This is 40 is comprised of vignettes, some of which work better than others. To a lesser degree, it contemplates aging, with Debbie refusing to acknowledge that she's 40, but (thankfully) we're not subjected to a mid-life crisis for Paul. He's having financial troubles but isn't tempted to stray. Debbie has an opportunity or two but never comes close to biting. This movie isn't about infidelity or temptation; it's about how two people make a marriage work even when sometimes divorce might seem like a better option.
The film is at its weakest when it heads off on tangents not directly related to the central characters. One subplot, involving Megan Fox and Charlene Yi playing Debbie's employees, would have been better left on the cutting room floor. Although Fox's acting has improved dramatically post-Transformers, she's still on hand mainly because of her body, and Yi is simply awful. Another vignette, which involves Melissa McCarthy as the mom of a buck-toothed kid, is more awkward than funny. The movie is long enough that scenes like these feel like padding that would have been better placed as supplemental material on a home video release or incorporated into a longer "director's cut."
This is 40 has its share of honest and at times tender moments. Perhaps the most enjoyable sequence in the film follows Debbie and Pete on an overnight "getaway" that allows them to rediscover each other. The return home is also perfect. Apatow takes time to explore Pete's relationship with his father (Albert Brooks),who believes that the concept of "family" means sharing money, and Debbie's interaction (or lack thereof) with her dad (John Lithgow), a spinal surgeon who walked out when she was eight years old.
The structure might be French but the style is very much Apatow, with scenes of intense profanity and unparalleled vulgarity. There's evidence of improvisation throughout the film and, apparently, Leslie Mann's topless scene was her idea. (Note: Unlike her "topless" scene in The Change-Up, which used CGI to accomplish the nudity, this is Mann's real chest. I guess having her husband on the other side of the camera established the necessary level of trust.) Apatow also has a point to make about the commercialization of music by establishing Pete and Debbie's musical tastes as diametric opposites.
For Apatow, this is a true family affair. In addition to having his wife as the female lead, his and Mann's children, Maude and Iris, play the two daughters (both are reprising their roles from Knocked Up; they also appeared as different characters in Funny People). His good friends and frequent collaborators, Paul Rudd and Jason Segel, are key members of the cast. Of all Apatow's films, this may be the most personal. It has a straight-from-the-heart feel that allows his numerous observations about family, marriage, aging to feel more honest than trite. Many viewers will relate to Pete and Debbie because they will see themselves in the characters. In This is 40, Apatow illustrates something we're aware of but don't often consider: our personal dramas are in many ways not unique to our lives but are universally relatable and repeatable. And, although This is 40 is too long and at times over-the-top, its essence is grounded in everyday moments and emotions that will have viewers nodding with understanding and recognition.
---
This is 40 (United States, 2012)
---
Three...better movies of this genre
worse movies of this genre
Three...better movies of Paul Rudd
worse movies of Paul Rudd
Three...better movies of Leslie Mann
worse movies of Leslie Mann
Three...better movies of Maude Apatow
(There are no more better movies of Maude Apatow)
worse movies of Maude Apatow
(There are no more worst movies of Maude Apatow)