She Said (United States, 2022)
November 18, 2022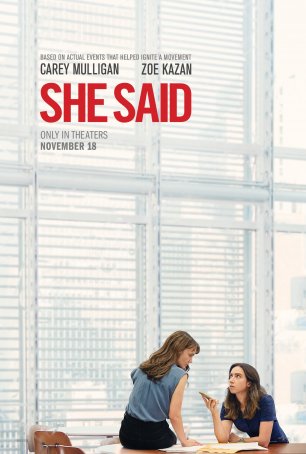 Although not on the same high level as certain other chronicles of investigative journalism – All the Presidents Men (Watergate), Spotlight (Catholic Church sex scandals), and The Post (the Pentagon Papers) – She Said nevertheless offers many of the same qualities that made those earlier movies both compelling and memorable. An account of the exhaustive work that accompanied the blockbuster revelations of sexual assault involving Hollywood heavyweight producer Harvey Weinstein, She Said follows the efforts of the journalists who broke the story in The New York Times, Jodi Kantor (Zoe Kazan) and Megan Twohey (Carey Mulligan.)
She Said drills down into the details of the investigation into Weinstein, although it occasionally pauses long enough to provide foundational building blocks of the central characters. This is critical to the film's success because it presents Twohey and Kantor as flesh-and-blood individuals with their own personal issues. The movie isn't as dark or startling as All the Presidents Men (which remains the gold standard for movies of this ilk) or as deeply disturbing as Spotlight, but it creates empathy with the investigators and effectively portrays the long-lasting damage to Weinstein's victims. Although an attempt is made to connect Trump to Weinstein (the film's early scenes transpire in late 2016 during the presidential campaign), that's only partially successful. Similarly, although the movie emphasizes that Weinstein is a symptom of a larger and more far reaching cancer, it never brings that home in a meaningful fashion.
The movie is dramatic in nature but the rhythms often feel like those of a thriller or a procedural. Clues are unearthed and revelations spill forth. There's a scene in which one of the journalists appears to be shadowed by a black car. One whistleblower interacts with Kantor using cloak-and-dagger tactics. Ambiguous hints arrive during abrupt late night cell phone calls from anonymous sources. Director Maria Schrader keeps the pace elevated so that, even though the movie clocks it at longer than two hours, it never feels protracted.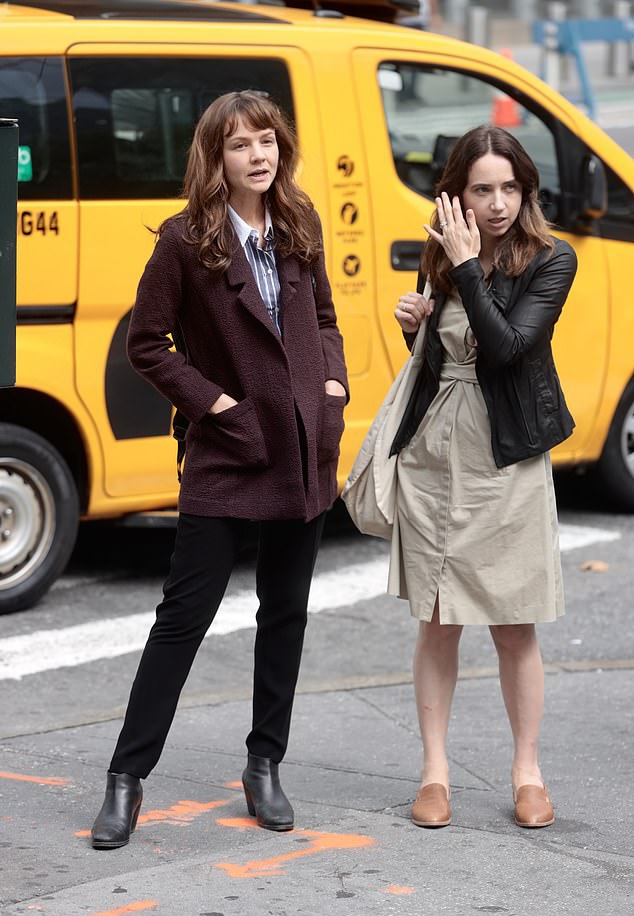 Twohey, who was involved in investigating Trump, comes back to The Times during early 2017 after giving birth to a daughter. Suffering from postpartum depression, she feels that work will help her to cope; she joins Kantor's incipient investigation into Weinstein. In the early days, it's unclear whether anything publishable will result from the duo's efforts. Victims either won't talk on the record or are gagged by NDAs associated with payouts. Dogged persistence creates cracks and Kantor gets her first big breaks while in London. A former assistant to Weinstein, Zelda Perkins (Samantha Morton), provides written documentation related to the NDAs, and one of the producer's victims, Laura Madden (Jennifer Ehle), admits to never having signed anything. Unfortunately, she's about to undergo cancer surgery so is ambivalent about going on the record.
As the investigation progresses, we are provided with glimpses into the journalists' lives. Twohey, after initially struggling with feelings of inadequacy as a mother, gradually forms a bond with her infant. Kantor, who has two children, suffers from the sense of guilt that many working mothers experience about not being "there" for her kids (especially her older daughter). She breaks into tears when a Skype call from London abruptly ends.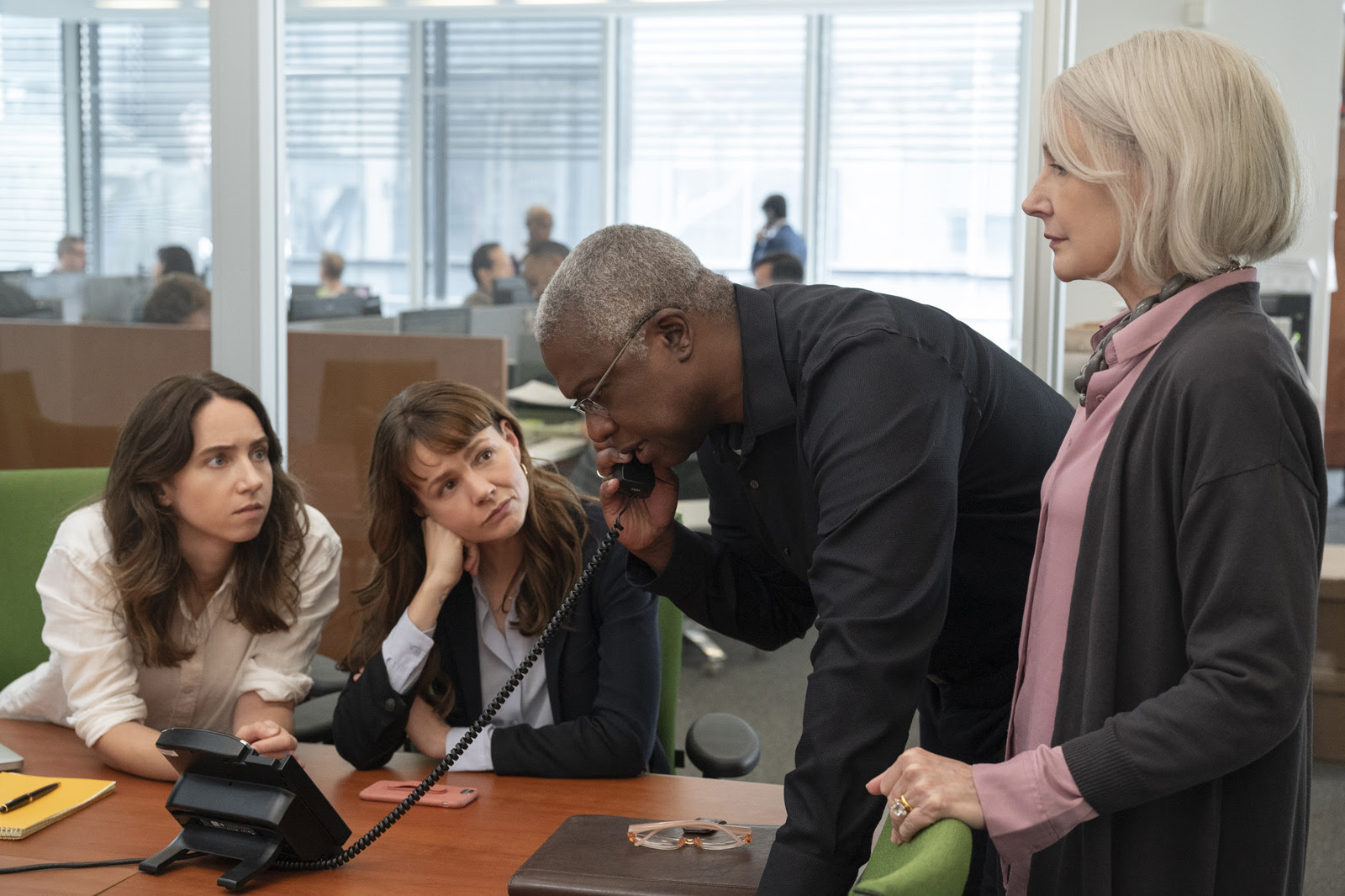 Carey Mulligan and Zoe Kazan capably convey the concentration and commitment of the women they portray. These aren't showy performances but they offer quietly effective portraits. Supporting work is provided by Jennifer Ehle as the emotionally fragile Laura; Samantha Morton as the angry Zelda; Patricia Clarkson as Twohey and Kantor's editor, Rebecca Corbett; and Andre Braugher as The New York Times' executive editor, Dean Baquet. Ashley Judd plays herself in several key scenes. Mike Houston is Weinstein, although he is seen only from behind. Credible impersonators give voice to the likes of Rose McGowan and Donald Trump.
With viewers approaching She Said with knowledge of how everything ends, the challenge faced by the filmmakers is making the process sufficiently compelling that viewers become involved in the various steps and hurdles along the way. In that, director Maria Schrader succeeds, even if I'm forced to admit there's an element of anticlimax to the inevitable resolution. For the most part, She Said provides involving material that doesn't forget the victims in the process of telling how their stories brought down one of Hollywood's ogres.
---
She Said (United States, 2022)
---

Three...better movies of this genre
worse movies of this genre
Three...better movies of Carey Mulligan
worse movies of Carey Mulligan
Three...better movies of Zoe Kazan
worse movies of Zoe Kazan
(There are no more worst movies of Zoe Kazan)
Three...better movies of Patricia Clarkson
worse movies of Patricia Clarkson