Tower Heist (United States, 2011)
November 03, 2011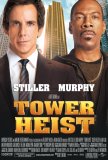 Whether suffused with tension or laced with humor, the heist movie has enjoyed enduring appeal since the heyday of film noir. Good heist movies proceed according to an established template that includes meticulous attention to the details of the scheme both in the planning stage and in its execution. The twists - there are often many but always at least one - are ingenious and the screenplay is often referred to as "smart" and "cunning." Unfortunately, few (if any) of these characteristics apply to Brett Ratner's Tower Heist, as sloppy a heist movie as I can remember. It is redeemed, at least to a degree, by the comedic performances of lead actor Ben Stiller and supporting player Eddie Murphy. The pace, emphasized by Christophe Beck's relentless score, is so fast that viewers might miss some of the king-sized plot holes (although not all of them). But the caper is a dud - so stupid and implausible from beginning to end that it's impossible to take it seriously for even the briefest of moments.
Ratner's reputation is built primarily on the Rush Hour trilogy, a series that overexposed the limited chemistry between Chris Tucker and Jackie Chan. With Tower Heist, Ratner attempts to mine a similar buddy film vein with Stiller and Murphy. However, with everything else going on, it's impossible for this relationship to get off the ground - the two don't share enough screen time for it to work. The same can be said of the non-starter romance between Stiller and Tea Leoni. Ratner doesn't care about his characters - he just throws them on screen, mixes them up, and hopes something works. For the most part, it doesn't.
The action centers around The Tower, an exclusive high rise Manhattan residence building where apartments start at $5 million. Occupying the penthouse with its tremendous view and rooftop swimming pool is multi-millionaire Arthur Shaw (Alan Alda), a crook cast in the mold of Bernie Madoff. Shaw's every whim is catered to by The Tower's staff, including the concierge, Charlie (Casey Affleck); the elevator operator, Enrique (Michael Pena); the doorman, Lester (Stephen McKinley Henderson); and their boss, Josh (Ben Stiller). Then the bombshell lands, dropped by FBI Special Agent Claire Denham (Tea Leoni): Shaw has been indicted on multiple counts of fraud. His entire portfolio was a scam and all the money invested with him - including the pension fund of The Tower's workers - is gone. Josh's solution: with the help of a small-time thief named Slide (Eddie Murphy), they'll break into Shaw's hidden safe and recover the money he has stolen from them. To do so requires that they circumvent The Tower's high-tech security systems, elude the FBI, and find and crack the safe. Things become more difficult when Josh, Enrique, and Charlie are fired and barred entrance to the building.
The biggest disappointment with Tower Heist is how dumb the screenplay is. The big "twist" is pedestrian and the centerpiece sequence involving a Ferarri dangling from a cable hundreds of feet in the air is neither ingenious nor exciting. The caper as a whole is not well designed and the specifics are so threadbare that much of what happens toward the end makes little sense. This is a sadly common example of a filmmaker designing his production for inattentive, lazy audiences who don't really care about story coherence or consistency. It's a "turn off the brain" movie.
Stiller and Murphy have been funnier in other movies, but they bring a badly needed sense of levity to the proceedings and each is good for at least a few good laughs. Alan Alda is particularly good as the silver-tongued bad guy. He's like grandpa with a bad attitude and one gets the sense he spent some time studying video of Madoff before embarking upon the portrayal. No one else makes much of an impression, existing as they do more as background decoration than genuine characters.
Tower Heist was originally intended to be the first of a "great experiment" embarked upon by Universal Pictures. The plan was to open the movie theatrically on November 4, 2011 then make it available for pay-per-view three weeks later (Thanksgiving weekend) at the astounding price of about $60. When multiplexes mutinied, Universal scrapped the idea, which is a good thing for potential movie-goers. At $10 per ticket, this movie represents robbery. At $60 per purchase, the title would be richly deserved.
---
Tower Heist (United States, 2011)
---
Three...better movies of this genre
worse movies of this genre
Three...better movies of Ben Stiller
worse movies of Ben Stiller
Three...better movies of Judd Hirsch
worse movies of Judd Hirsch
Three...better movies of Stephen McKinley Henderson
(There are no more better movies of Stephen McKinley Henderson)
worse movies of Stephen McKinley Henderson
(There are no more worst movies of Stephen McKinley Henderson)