Trolls World Tour (United States, 2020)
April 10, 2020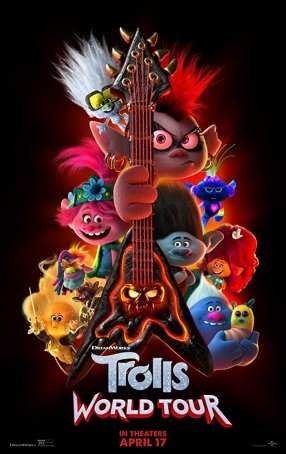 2016's Trolls, an animated confection based on the toy line, was a pleasant surprise, both in terms of its appeal and its box office prowess. The latter (as much as the former) determined that there would be a sequel. At one point, distributor Universal Studios had high hopes for the movie but, with its planned theatrical release hijacked by the coronavirus, a decision had to be made: push off the release date or make it one of the highest profile to-date direct-to-video releases. The decisive factor in choosing the second option was that the film had already debuted in several foreign market and, as a result, delaying its U.S. debut was a non-starter. It seems unlikely, however, that this will herald any sort of movement in collapsing the theater-to-home video window.

Trolls World Tour is better suited to watching at home than in a theater. It's a shadow of its predecessor, a regurgitation of some of the elements that made the first one popular but without the sense of spontaneous fun. Weighed down by the need to provide a socially relevant message – the importance of diversity – the movie stumbles more often than it soars. The storyline follows an unsurprising trajectory that occasionally takes detours to remind us about the negative consequences of intolerance and cultural appropriation. The overall narrative also feels a bit like a jumble (not surprising considering that there are five credited screenwriters) with the main through-line sometimes getting lost.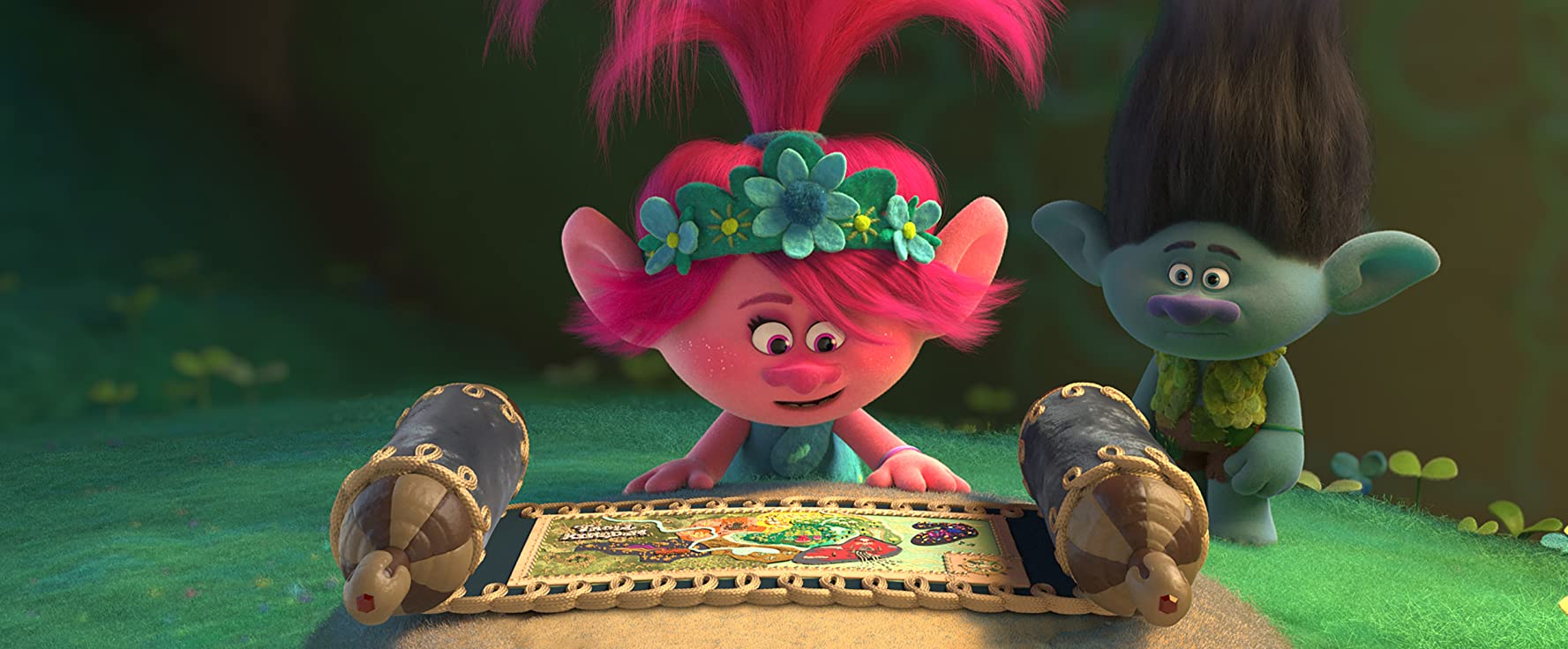 The movie opens with the conceit that the land of the Trolls presented in Trolls is just the tip of the iceberg. The "Pop Trolls" (as they are now known) are one of six groups, each of which has its own culture, appearance, and (most importantly) musical taste. Other Troll groups are Classical, Techno, Funk, Country, and Hard Rock. Problems start when the Queen of the Hard Rock Trolls, Barb (Rachel Bloom), decides that all the Troll kingdoms should be united under her rule – getting tattoos on parts of their bodies that don't show in office clothing, opting for Big Hair and Mullets, playing air guitars, and giving up their own music in favor of hers. Those who don't capitulate face her monstrously loud war machine.

Annoyingly cute and preciously perky Poppy (Anna Kendrick), the Queen of the Pop Trolls, believes that a little diplomacy can solve the problem. So, along with her lovesick sidekick Branch (Justin Timberlake), who fears that he has been condemned to the Friendzone, and the appropriately named Biggie (James Corden), she sets out to visit other Troll lands and discovers that, rather than being embraced with welcome arms, she is greeted with hostility. It's only with the help of the gallant Hickory (Sam Rockwell) that she escapes the clutches of Delta Dawn (Kelly Clarkson), the Queen of the C&W Trolls.

One might think that with all of these different musical styles, the soundtrack should be an amazing smorgasbord of choices. In reality, however, we're rarely treated to complete songs. We get chords, riffs, snippets, and montages. Yes, that's really "Gangnam Style," "Who Let the Dogs Out," and "Can't Touch That" you're hearing, but don't be distracted or you'll miss them. Full song renditions are limited to the likes of a reworking of "Girls Just Wanna Have Fun" ("Trolls Just Wanna Have Fun"), Kelly Clarkson belting out "Born to Die," and the climactic "Just Sing."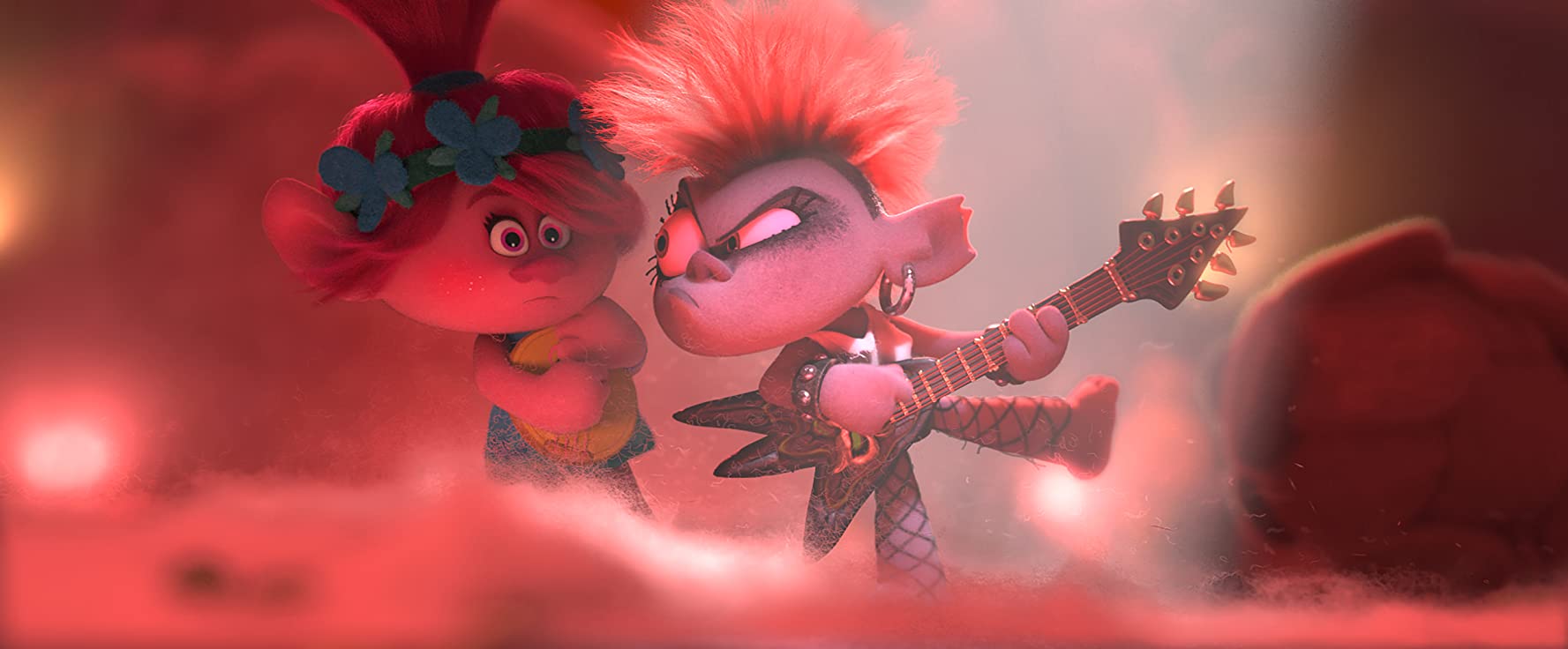 Visually, the movie tries a variety of different palettes. Each Troll kingdom has a slightly different look and feel, from the day-glo EDM-inspired appearance of the Techno Trolls to the bright, Candyland look of the Pop Trolls. Toward the end, when music is (briefly) taken away, everything goes gray, black, and white. The actual animation uses a generic computer-generated format with little to recommend it in particular. On a scale, this is a lot closer to Ice Age than Inside Out. It's a product with no pretense of being artistic.  

For the most part, the film is more likely to put adults to sleep than keep them invigorated, although there are a few flashes of borderline-inspiration (mostly satirical aspects of the different music styles). Overall, this falls into the category of a big screen (now small screen) cartoon that's more likely to find favor with under-10 viewers than those with more sophisticated tastes. Trolls World Tour is forgettable and, in part as a result of the bad luck surrounding its release date, it will likely soon be forgotten.
---
Trolls World Tour (United States, 2020)
Director:
Walt Dohrn, David P. Smith
Cast:
Anna Kendrick
,
Justin Timberlake
,
James Corden
,
Rachel Bloom
,
Kelly Clarkson
,
Sam Rockwell
,
George Clinton
,
Mary J. Blige
Home Release Date: 2020-07-07
Screenplay:
Jonathan Aibel, Glenn Berger, Maya Forbes & Wallace Wolodarsky and Elizabeth Tippet
Cinematography:
Music:
Theodore Shapiro
U.S. Distributor: Universal Pictures
Run Time: 1:30
U.S. Release Date: 2020-04-10
MPAA Rating:
"PG"
Genre:
Animated/Musical
Subtitles: none
Theatrical Aspect Ratio: 2.35:1
---

Three...better movies of this genre
(There are no more better movies of this genre)
worse movies of this genre
Three...better movies of Anna Kendrick
worse movies of Anna Kendrick
Three...better movies of Justin Timberlake
worse movies of Justin Timberlake
Three...better movies of James Corden
(There are no more better movies of James Corden)
worse movies of James Corden