Movies starring Aishwarya Rai Bride and Prejudice
At first, the marriage between classical British literature and Bollywood musical would seem doomed to failure. But this particular match, arranged by Gurinder Chadha, finds a surprisingly rich field of common ground. Bride and Prejudice is bright, ... Last Legion, The
While it's impossible to assert that The Last Legion is entirely undone by budgetary constraints - bad scripting and odd casting choices play a part as well - it's a good bet that the movie could have been better had more money been spent on the pr...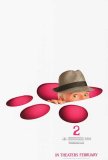 Pink Panther 2, The
I approached The Pink Panther 2 with the firm belief that, no matter how ill inspired it might be, it certainly couldn't be worse than its 2006 predecessor, which set a new low bar for all things Clouseau. In fulfilling those expectations, The Pin...