Movies starring Alexis Dziena Broken Flowers
Broken Flowers shows the kind of offbeat spin that a quirky independent director like Jim Jarmusch can put on a Hollywood standby: the road picture. Using equal parts understated drama and comedy, Jarmusch takes us on a trip through the present to... Fool's Gold
Five years ago, Hollywood paired Kate Hudson and Matthew McConaughey in the romantic comedy How to Lose a Guy in 10 Days and the match rewarded the filmmakers with box office receipts exceeding $100 million. No doubt the hope was that a reunion of ...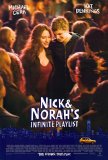 Nick and Norah's Infinite Playlist
It's strange how the concept of two people wandering around a city at night falling in love has come of age in 2008. First, there was In Search of a Midnight Kiss. Now there's Nick and Nora's Infinite Playlist. Of course, Richard Linklater can c...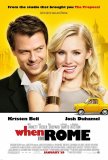 When in Rome
Those who were regular viewers of Veronica Mars recognize there's an immense wellspring of charisma available to Kristen Bell that she has thus far been unable to tap in her post-Mars career. When in Rome, despite being a standard-order romantic c...