Movies starring Amber Valletta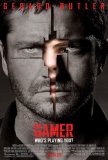 Gamer
I wonder if Gamer might make a good game; it certainly doesn't make a good movie. However, add an element of interactivity into the hyperkinetic, repetitive action, plodding narrative, and stupefyingly obvious social commentary, and the potential ... Hitch
Hitch is a pleasant, if slightly overlong, romantic comedy from two men who have forged reputations in the genre. Director Andy Tennant is no stranger to love stories, having previously helmed Fools Rush In, Ever After, and Sweet Home Alabama. And,... Premonition
Time travel movies meddle with paradoxes and causality - these things lie at the core of their essential fascination. The difference between a good time travel movie and a bad one often rests with one simple quality: Having established a set of "... Transporter 2
I don't have a lot to say about Transporter 2. It's a sequel that outdoes the original in terms of flair and outrageousness, but it will appeal to much the same audience. If James Bond is too tame for you, Frank Martin (Jason Stratham) is your ma...