Movies starring Austin Nichols Day After Tomorrow, The
Roland Emmerich must dislike New York City. After all, this is the third time he has destroyed it. The Day After Tomorrow, an ode to an apocalyptic endgame of global warming, is an old-fashioned disaster film with modern-day special effects. It'... Glory Road
Sports movies, with all the requisite clichés attached, are a dime a dozen, and no one has done them better in recent years than Disney. With every year, the roster lengthens, and now includes all of the four major sports, plus golf. The thing t...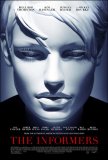 Informers, The
People suck. Life sucks. And when you get to the top, you realize that everything is hollow and pointless. That sums up Bret Easton Ellis' philosophy as well as the central themes of the latest downer of a movie based on one of his novels. The ... Wimbledon
Love in tennis doesn't have to be bad, as Richard Loncraine's Wimbledon shows. A formulaic motion picture that delights in spite of (or perhaps because of?) its reliance upon conventions, Wimbledon is the kind of movie that allows the non-cynical ...